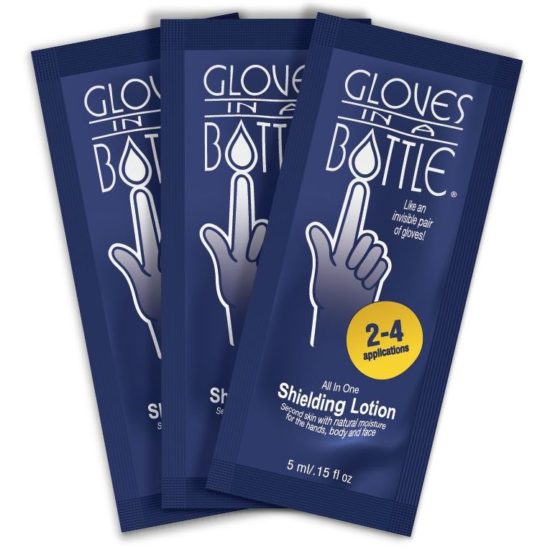 Sample – Gloves in a Bottle 3 x 5ml
3 Products Sold
Gloves in a Bottle is a shielding lotion for eczema that blocks out everyday chemicals and irritants, stays on for hours and promotes healing. Made in USA.
Some of the major benefits of Gloves In A Bottle® include:
Can be used on all skin types
Binds to the outer layer of skin, creating an invisible shield
Helps the skin to lock in moisture
Helps the skin to keep out toxins
Doesn't wash off, lasts for 4 hrs
Dirt, grime, paint, wood stain, oils and grease wash right off
Not greasy, no residue, no fingermarks
Effective on eczema, psoriasis, contact dermatitis & skin allergies
Recommended and used by more than 9500 medical offices for dry skin problems
** PRICE INDICATED IS FOR HANDLING & PACKAGING. FREE LOCAL DELIVERY**
Out of stock
This product is currently out of stock and unavailable.
Invisible protection for sensitive, cracked, itchy skin.

Gloves in a Bottle is a shielding lotion designed to protect sensitive skin. Suitable for those with eczema, dry skin, psoriasis, contact allergy.

How does Gloves In A Bottle work?

Instead of attempting to replace natural oils, Gloves In A Bottle forms a web or bond with the dead skin cells that works like an invisible pair of gloves. This invisible pair of gloves helps reduce the natural oil and moisture loss allowing the skin to heal itself. Gloves In A Bottle helps the outer layer of skin to keep its natural oils and moisturizers that protect the deeper layers of skin, leaving the skin soft and supple.

Gloves In A Bottle keeps the outer layer of skin functioning so well that it can breathe and perspire naturally. Because Gloves In A Bottle becomes part of the outer layer of skin itself, it doesn't wash off like conventional lotions. It comes off naturally with exfoliating skin cells. For continued protection, just reapply every 4 to 12 hours.

Review from some customers in Singapore:

"It does absorb fast and really moisturises. Love the creamy light scent. Thank you again for fast delivery of a great product" – CH

"This is a good lotion that protects my hands because I use chemical and shampoo a lot in my daily work as a hair dresser" – BW

More Singapore customer reviews