Reviews from customers about Skinshare SG :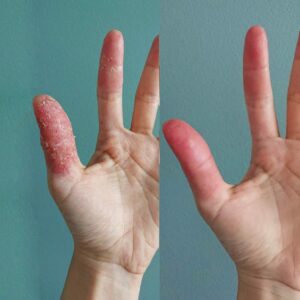 Hi Bee, just wanted to drop you a note to thank you for doing what you do and making it your life's work to help eczema patients with products that are safe for all ages. 🙂 My skin cleared up alot within a week. 
I was suffering from a mild infection from atopic dermatitis and was desperate for a resolution without steroid creams. When Bee reached out to me and offered the silver gel along with the Emu Oil, I was skeptical at first. After reading more about the products and reviews, I thought to give it a go. Within a few days of application, the infection started to clear up and within a week, the condition of my hands are so much better! The best part is that this gel is baby-friendly as well. Thank you, Bee for doing what you do and making it your life's work to help eczema patients. – Eden
I wish to thank Bee for her recommendation of the
Emu oil
for my 4 years old who has eczema. As prescribed by PD and dermatologists, I have been applying steroid cream on her skin each time she experiences an active flare as this has been the only effective cream to calm her skin. It has been a year and although assured by doctors that continued usage is ok, I do have my doubts. So imagine my relief to be introduced to
YNN emu oil
! I still need to use steroid on bad days but instead of "maintaining" for days, now I cut it to just 1-2 days depending on the severity of the rashes and switch to emu oil as daily maintenance and this regime is working for us now. I'm very happy! Thank you Bee! 
– Daphne (a happy mummy)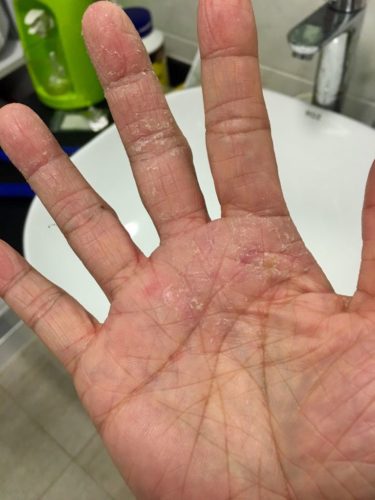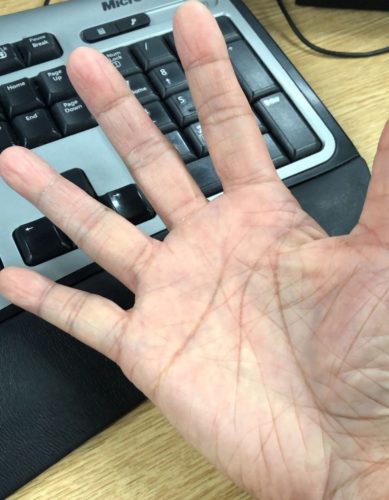 Product used: YNotNatural Emu Oil & Gloves in a Bottle Shielding(GIAB) Lotion
Skinshare SG Bee's advice:
Use emu oil on broken skin, and GIAB on other less severe parts.
Avoid washing hands with commercial soap (eg. public toilet hand wash). Use hypoallergenic or natural hand wash.
Avoid washing hands with hot water or washing too often.
Testimonial : Thanks for following up! My hands have recovered! – WYM
My child has hand eczema and I was very worried as it can get very bad despite frequent moisturizing. Thank you for your recommendation of using the lotion because it really helps with her condition. We were able to see a difference in less than a week of usage. My girl started swimming again after a few years gap. Many thanks to you, Bee for introducing it to me – Doris (a happy mummy)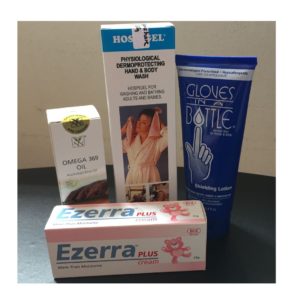 Thanks for creating this website for people who are facing dry and sensitive skin. It can happen to anyone, especially with aging – SI
An email from a mummy – Grateful for our recommendation and follow-up because her son's with atopic eczema was improving.
"Thank you for your followup and further information. I have started using it on my son who has atopic eczema and find it quite effective. Will continue with the use and observe further – EU"
Very prompt delivery! The bamboo gloves were exactly what I needed, thin enough for Singapore's heat and even for me to touch my phone screen! I loved its softness and how it hugged your skin to have a better fit – Ruth Lee
I been trying what u suggested with YNotNatural 
emu
 oil, and it since been quite well as I never experience any infection then. – JC 
I have purchased products many times from here. Delivery was really fast and the customer service is good too! – Jessie L** 
The lotion is really helping in my hand allergy to latex gloves. Its less itchy than before… thanks and hope you keep selling it! – Daphne
A testimonial on how our recommended skincare product has helped to reduce steroid usage in the long term.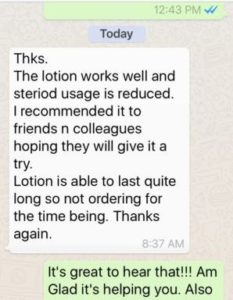 Hi, I received the item, thank you for your prompt delivery and reply. Also, thank you so much for the tips on how to use the lotion. Appreciate it. – RS
I've tried so many products before – anti-fungal, anti-bacterial, anti-inflammatory, even an ointment which has all three, and they only saved my skin from soreness, and the cracks and chafes remain. Those makes me insecure whenever I meet people and I have to shake their hands and worry what they think. Turns out there's nothing wrong with my hygiene, and my skin is super sensitive as regards certain chemicals. The shielding lotion certainly solved a lot of my skin anxieties; it's so effective in protecting my hands from certain chemicals. The GIAB from Bee is also the best price there is in the SG market. Highly, highly recommended! – Rich Maca
Am very glad to find the lotion I have been looking for here now, via Skinshare SG – with many convenient delivery & payment options – Joanne Y