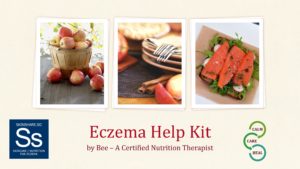 This package is for suitable for mild to moderate eczema/dermatitis condition.
This is also suitable for those who want to try-out the eczema diet by themselves, with some tips and practical guide.
This kit includes products that can help you CALM, CARE and HEAL your skin.
Calm – Inflamed and itchy skin needs to be calmed down.
Care – Dry skin skin requires regular skincare regime for protection and sensitive eczema skin are prone to flareup by external irritants. Use these correct products to prevent flareup.
Heal – Healing the skin from within is done by correct food choices, eczema-friendly diet. This package includes 2 handy eczema-diet guide, tailored for the Asian diet :
Food substitute chart – What food to avoid and what food you can substitute with, eczema-friendly food for skin healing
Eating-out guide – Food selection which are eczema-friendly can sometimes be challenging when we are eating out or at work. However, there are many suitable selection at Asian food court, hawker centre and restaurants. This practical guide makes it much easier to stay on the eczema diet even when we are busy.
Start on it at any time of your convenience.
Testimonials : 
Thank you for the guide, its very useful, already I am eating the suggested food in the foodcourt. Let me try out and see how the diet works for me.  – Pam 
Hello bee, my skin has improved. Not as red and inflamed. I'm sure the diet and supplements has helped. – Daphne  
Have more queries/questions about this package? You would like to replace the products with your preferred products OR only interested in the self-help eczema food guide? Feel free to email our nutrition therapist for a customized quote : [email protected]