Cottonique – Allergy-Free apparel made from 100% organic cotton. 
Cottonique specializes in allergy-free apparel made from 100% organic cotton from USA and India.
This hypoallergenic piece, made from 100% organic cotton, serves as a protective layer against allergens and irritants and works as a restorative barrier to rehydrate the skin—suitable for wet wrap therapy. It improves the efficacy of topical medications by locking in moisture, allowing the skin to better absorb creams and ointments.
Whether worn underneath a shirt or sleeper, this latest hypoallergenic ingenuity is a perfect piece to soothe the skin during intense allergic reactions, providing a restorative yet defensive barrier to even the most sensitive skin. It features allergy-free reversible sleeve hem, bringing non-irritating coverage. The reversible mittens, on the other hand, help minimize scratching at night, allowing everyone to enjoy a good night's sleep.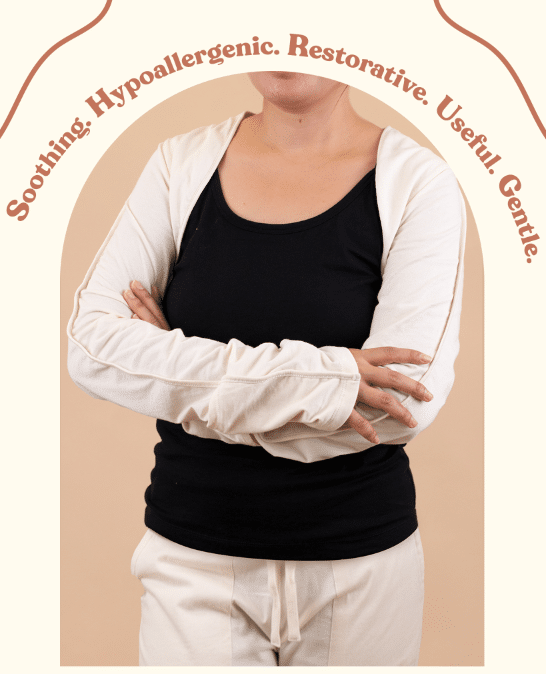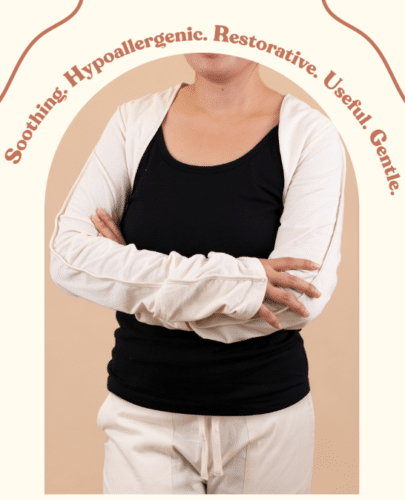 Comfortable relief and protective solution against allergy triggers and constant scratching
Without the proper clothing to help with symptom relief, it's all too easy to feel frustrated and defenseless when skin allergies like eczema and psoriasis start to flare-up. Good thing, you won't have to face constant itching alone with our Allergy-Free Long Sleeve Bolero Shrug with Reversible Mittens, designed to minimize uncontrollable scratching using 100% organic cotton.
Key Characteristics of Cottonique fabric :
No Rubber and Latex
No Synthetic Fabric
Superior Breathability
No Chemical Treatments
No Bleaches and Dyes
100% Organic Cotton
Sizing Guideline :
Measurements are in inches.
Suitable for children above 10 yr old and adult.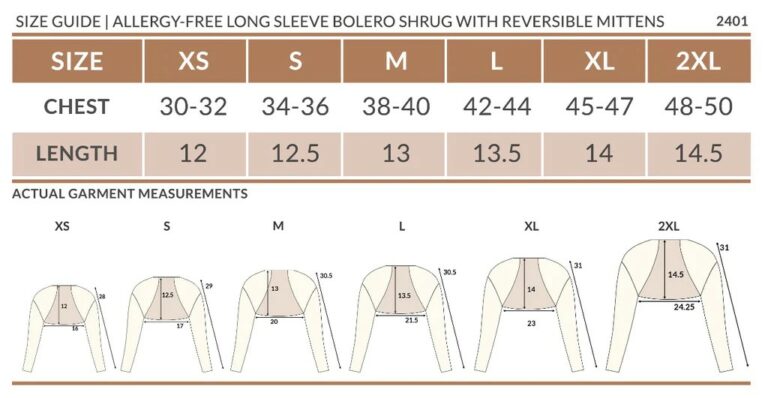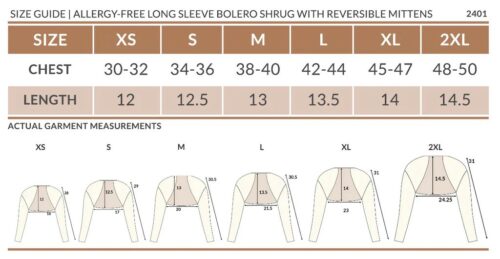 Usage : 
1. Versatile: Soft, comfortable and may be used for day as protection from allergen, irritant. As a night wear, paired with sleeveless top or singlet. It is useful in the acute phases of the disease for wet wrap/dry wrap, also as maintenance therapy and prevention.
2. Fit: Designed to be slightly loose and not necessarily close fitting to the skin.
Product Care : 
Machine Wash, Gentle Cycle  Machine-wash at not more that 30°C with gentle cycle. Use only dermatologist recommended organic based detergents.
Do Not Bleach Do not bleach Cottonique products as it will damage the hypoallergenic properties and aesthetics of the fabric.
Tumble Dry, Low Rinse it thoroughly then dry on low temperature.
 Iron Dry or Steam, Low Iron or steam with low heat if needed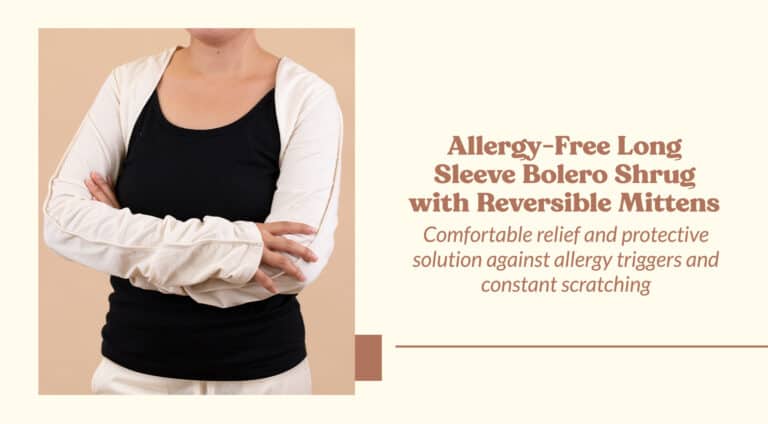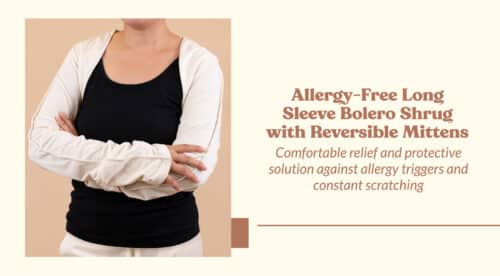 Customer Testimonials : 
"I love it. I roll the sleeves up and wear it as a shrug over a tee. Finally a layer that's easy to get on and off when the temp changes." – Laura
"Comfortable and soft for my sensitive skin, finally I can sleep well at night without worry of scratching my eczema rash." – Kay