Great for Foot Eczema Blisters, Cracks, Dry Skin, More!

Endorsed by National Eczema Association. Walk, run and step comfortably with Remedywear Adult Socks for food eczema. Foot eczema blisters and dry patches require special protection and regular socks or athletic socks cannot provide this level of relief. These mid-calf TENCEL/lyocell socks are available in 3 unisex sizes for men and women and feature exceptional stretch.
The ultra-soft material fits like a second skin to eliminate foot eczema irritation from loose fabric that rubs against sensitive skin. With these special TENCEL/lyocell socks, you can find relief and speed up the healing process for foot eczema blisters, peeling skin, dryness and more. Wear the socks day and night in conjunction with a natural eczema cream or alone for soothing relief.
In a clinical study [1], our ratio of TENCEL and Smartcel™ Sensitive was proven to reduce the severity of atopic dermatitis, reduce itchiness and improve quality of sleep when worn overnight for three consecutive nights.
Reinforced heel and toe design to provide lasting protection from scratching.
Woven to provide maximum stretch.
Cooling comfort day or night.
Material
Remedywear is made in Portugal with fair trade, eco-friendly, award-winning production standards.
64% TENCEL® (lyocell)
16% Smartcel™ Sensitive (TENCEL/lyocell + zinc)
16% Recycled polyester
4% Recycled elastane
Customer Reviews
"Excellent product. For me, they greatly reduced irritation. Play sports, sleeping, and just general comfort. Since I bought the socks, I feel much much better. Though my feet are scared from years of AD, the skin is finally clear. My dyshidrotic eczema was really bad between my toes and under my feet. I wear the socks to sleep and I don't wake up for a good scratch anymore."- Andrew
"I just love how super soft these socks are! I typically hate wearing socks to bed, but because these are so soft and breathable, they don't bother me! It really helps me to prevent me from scratching my feet which I tend to do as they are my trouble area in my healing process. So I would definitely give these a go if you need some much-needed relief for your feet!"-Jen
How to Wear
Works well dry! No need for uncomfortable wet wrapping.
Wear them over itchy, dry skin alone or for best results over an emollient.
For best results wear them overnight or all day under regular clothing.
Sizing Guide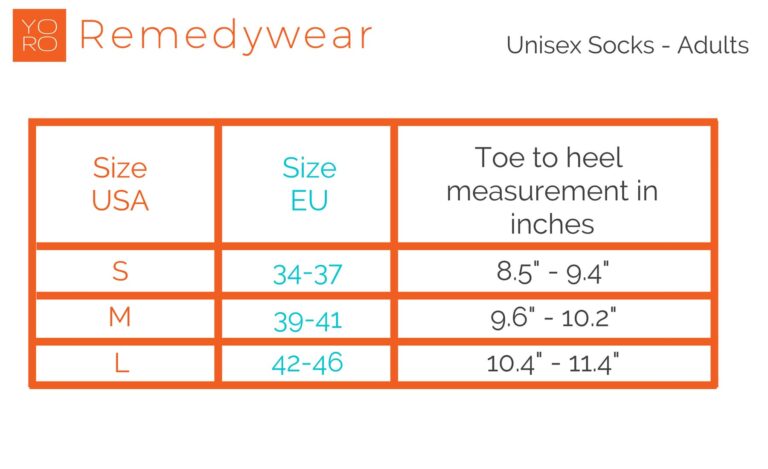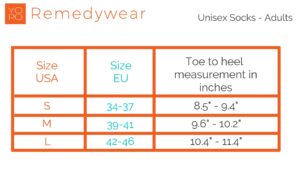 Note: ** Due to hygiene purpose, socks are non-exchangeable nor refundable **
Washing Instructions
Wash before your first use. Machine wash on a gentle cycle with cold water (<40 degrees C) using a mild plant or mineral based detergent with no bleach or chemical whitening agents. Do not use fabric softeners or conditioners. Do not dry clean.
For best performance and to extend the life of the garments, lay flat to dry. You may also dry on a gentle cycle at a low temperature. Iron at a low temperature setting (less than 110°C).
References:
[1] Wiegand, 2013, Skin-protective effects of a zinc oxide-functionalized textile and its relevance for atopic dermatitis. Clin Cosmet Investig Dermatol; 6: 115–121. https://www.ncbi.nlm.nih.gov/pmc/articles/PMC3656624/