DermaSilk® – a unique range of Therapeutic Clothing.
DermaSilk Therapeutic Clothing is used in the treatment of various forms of dermatitis, eczema and allergic skin conditions that affect different areas of the body across all age groups. Used both as underwear by day and as nightwear this fabric allows the skin to breathe and controls temperature and humidity – reducing itch and controlling flares. Unlike emollient retention garments, DermaSilk Therapeutic Clothing is intended to be worn continuously to help control eczema and reduce both the frequency and severity of eczema flares. DermaSilk does not replace conventional treatment like emollients and steroids but is used alongside them.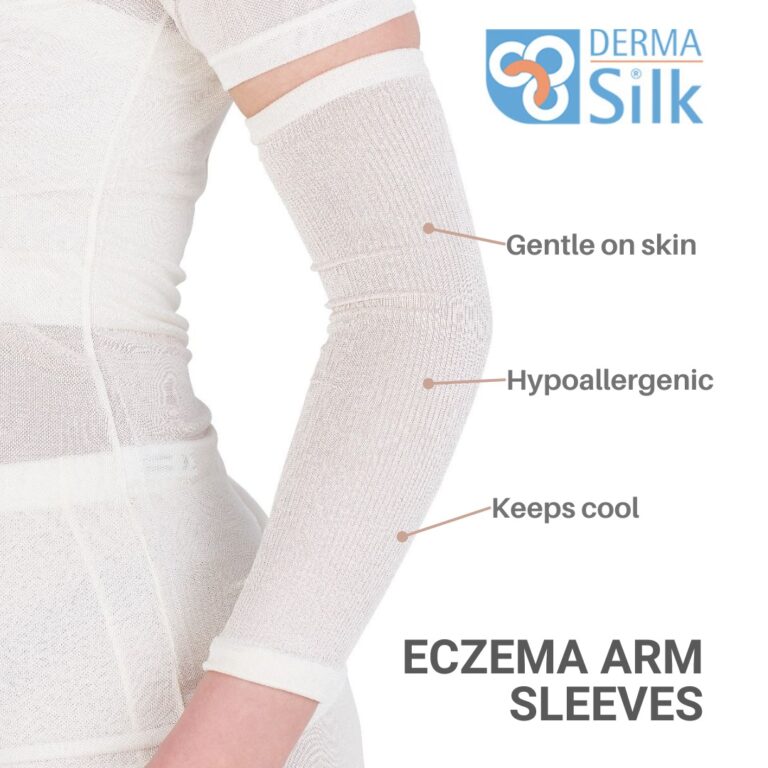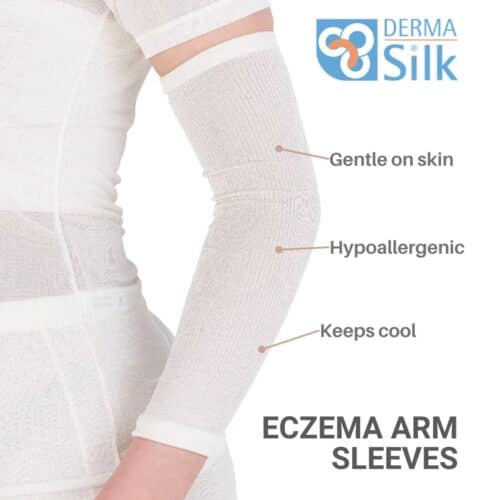 Helps skin health, even the most sensitive, naturally, quickly, and without side effects.
Clinical studies have confirmed that the use of DERMASILK® quickly reduces inflammation and symptoms such as itching, burning, pain, erythema. In clinical trials 83% of children with atopic dermatitis using DermaSilk showed an improvement in their condition.
Key Characteristics of Dermasilk fabric :
The innovative combination of nature and high technology gives DermaSilk® unique characteristics that no other fabric has:
IT'S SOFT, IT DOESN'T IRRITATE SENSITIVE SKIN. The long and perfectly smooth thread avoids mechanical friction and irritation, performing a beneficial micro-massage of the skin.
IT'S COOL AND VERY BREATHABLE. The yarn used and the particular knitting process give it very high breathability, helping to keep the skin fresh and dry and controlling perspiration.
IT PROMOTES THE RIGHT HYDRO-LIPID BALANCE BY CARRYING OUT AN EMOLLIENT AND SOOTHING ACTION. Absorbs and releases excess humidity/sweat, retaining an optimal humidity level. The skin remains dry but hydrated, thanks to the natural reserve of humidity held by the fibres.
IT IS THERMOREGULATING AND FIGHTS EXCESS SWEATING. Being a fiber of animal origin, silk has the property of maintaining body temperature even in conditions of excessive humidity (thermoregulating capacity).
IT IS VERY PURE. DermaSilk® garments have 100% pure silk fibroin in contact with the skin and have been deprived of sericin, a substance normally present in small percentages in silk which in rare cases can cause allergic reactions.
IT IS MICROBIOLOGICALLY PROTECTED AND HELPS TO FIGHT INFECTIONS. The permanent antimicrobial protection preserves DermaSilk® garments from contamination by bacteria and fungi and makes them effective in fighting inflammation and skin-mucous infections. It works in two ways:
1) It inhibits microorganisms from growing on the fabric and therefore from migrating towards the skin (remember that fabrics are an ideal habitat for fungi and bacteria);
2) It inactivates the pathogenic microorganisms that infect the skin when they come into contact with DermaSilk® garments.
Sizing Guideline :
Very elastic and versatile, the tubular fits both legs and arms.
One size : Length 19.6 in (50cm) and max circumference 19.6 in (50cm).
Designed for use on an elbow or knee
50cm length will cover most adult limbs appropriately.
For teenagers or ladies with thin arms, you may want to consider the Tubular for Child (length up to 30cm) for the arms, and adult size for the leg.

Usage : 
1. Versatile: Soft, light and cool DermaSilk® may be used for day or night wear, as needed. It is useful in the acute phases of the disease for wet wrap/dry wrap, also as maintenance therapy and prevention.
2. Fit: Designed to be lightweight and body forming. It needs to be close fitting and in contact with the skin at all times to be fully effective.
3. Cream/Ointment : When used in combination with medical cream and ointments, It's more effective for the cream to be fully absorbed into the skin before the DermaSilk clothing is worn.
Wash Care : 
Hand wash carefully by hand with mild non-biological (enzyme free) detergent, temperature up to 30-40 degrees if desired. Rinse thoroughly and air dry. Do not use bleach, fabric conditioners, stain removers or disinfectants. It is important to rinse repeatedly in plenty of water. Do not spin-dry or tumble-dry, or dry in direct contact with sources of heat.
Every ten washes we recommend soaking DermaSilk overnight in a solution of two tablespoons of bicarbonate of soda per litre of water to maintain the softness of the fabric, then wash as above.
[Note : As with all natural fibres, DermaSilk will last longer if 2 or more garments are rotated in use rather than a single garment being washed and worn continuously]