Organic Manuka Honey Skin Soothing Cream. The Original. Dermatologist Tested and Approved.
This cream is made in Canada, from a company that believes in organic, pure skincare that contains only good, simple, effective ingredients. They are bestselling in The Eczema Company (USA), Amazon and featured in The Allergic Living magazines in Canada & US.
Its six natural ingredients are gentle enough for babies and effective on adults. No burning or stinging like most creams containing additives. Kids love the soft, sweet honey smell! Our Organic Skin Soothing Manuka Honey Cream is an oil-based balm with a touch of water added to create a uniquely soft, buttery texture that your skin will adore. Use this honey-kissed, sensitive skin moisturizer everywhere! From head to toe, from delicate parts like eyes and lips down to knees and feet, and every space in between.

Can be used for :
Dry and sensitive skin
Eczema
Perioral Dermatitis
Psoriasis
Rosacea
Keratosis Pilaris
Groin irritation
Beards
Tattoos
Chafing
Chapped skin
Diaper rash
Chemotherapy burns
Sunburn
Razor burn & itchiness after shaving
Cuts and scrapes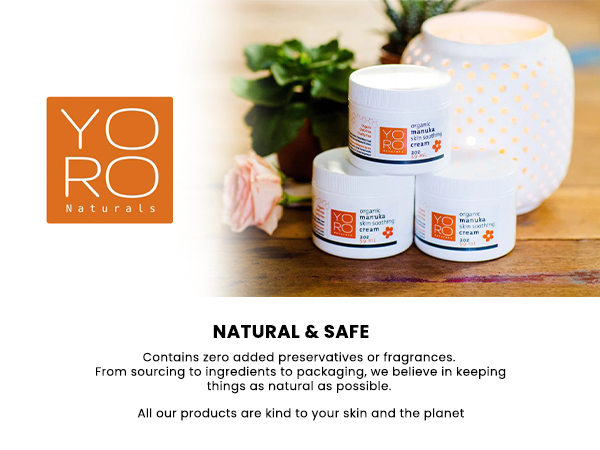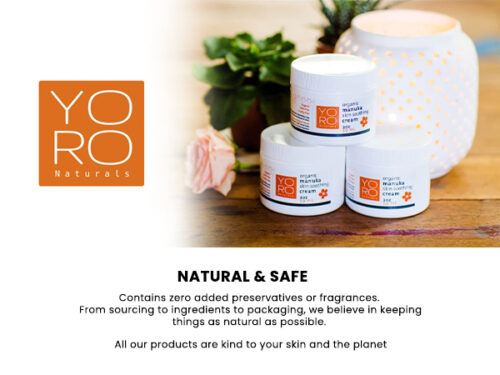 What is Manuka Honey & Manuka Oil? 

Manuka honey is produced by introduced European honey bees on the manuka or tea tree which grows throughout New Zealand and southeastern Australia. The honey that bees create using Manuka flower nectar has unique healing and soothing properties. It is also anti-inflammatory due to it's natural antibacterial and antifungal properties. In addition, manuka honey is also hydrating, because it can naturally draw some moisture into the skin, helping to hydrate and nourish the skin.
Manuka oil is extracted from the leaves of the Manuka bush. Manuka oil is actually 10 times more potent than tea tree oil. Manuka and tea tree oil are ancient remedies used worldwide for a variety of ailments.
New Zealand Manuka honey and Manuka oil blend with olive oil to form a luxuriously creamy balm that is both soothing and healing. YoRo Naturals Organic Manuka Skin Soothing Cream.
Ingredients :
Organic Olive Oil, Organic Beeswax, Filtered Water, Grape Seed Oil, Active 16+ New Zealand Manuka Honey, and Manuka Oil Extract.
User Reviews :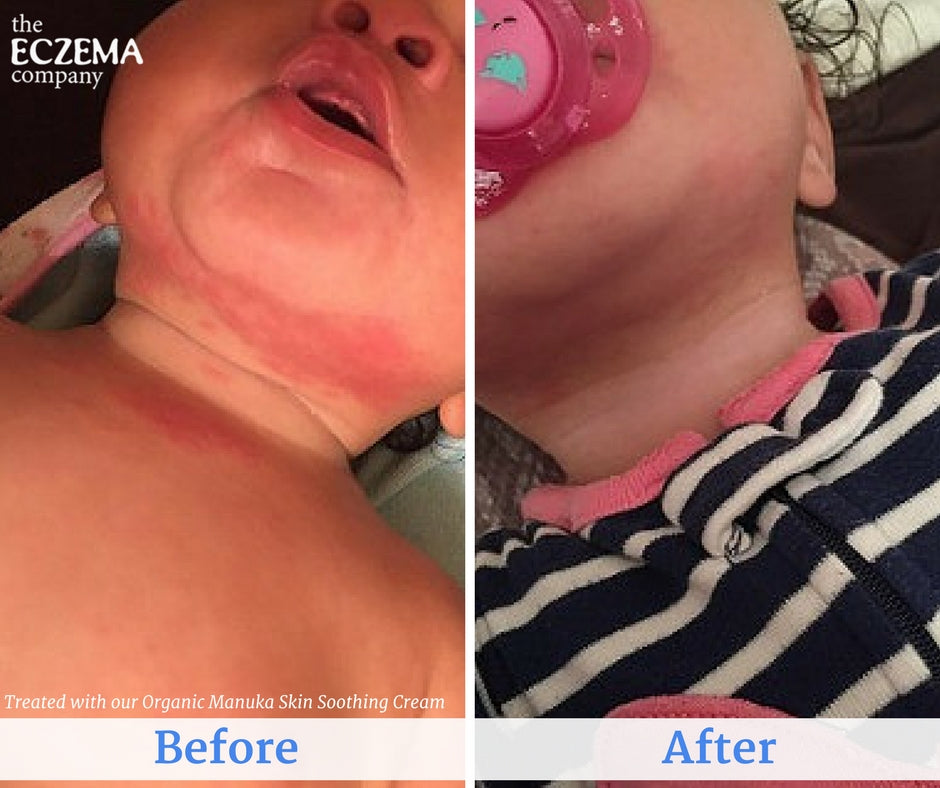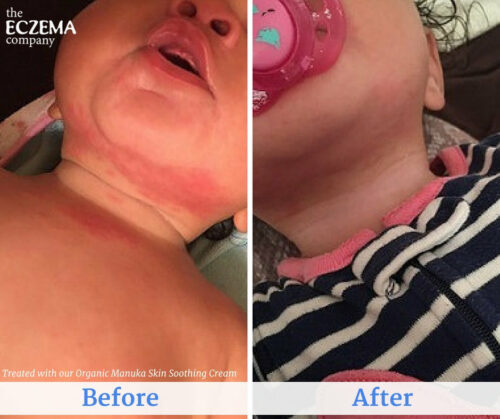 "In my opinion lotions and light moisturizers with minimum amount of oils work a lot better at that stage of eczema. This cream is good once you get passed the flared up stage. I actually also use it as my lip balm and love it! (A lot better alternative than a vaseline!)" – Iza(Amazon)
"I am so glad I discovered this product! Within a day the itchy, scaly, red skin was gone on my eyelids. I've used it day and night for the past 2 months and I have not had any more eczema flare-ups." Jany W(Amazon)
"My grandson has eczema on his eyelids. The cream has helped tremendously. We've been using it now for almost two weeks. It's still there, but it is much better." – Marty (Amazon)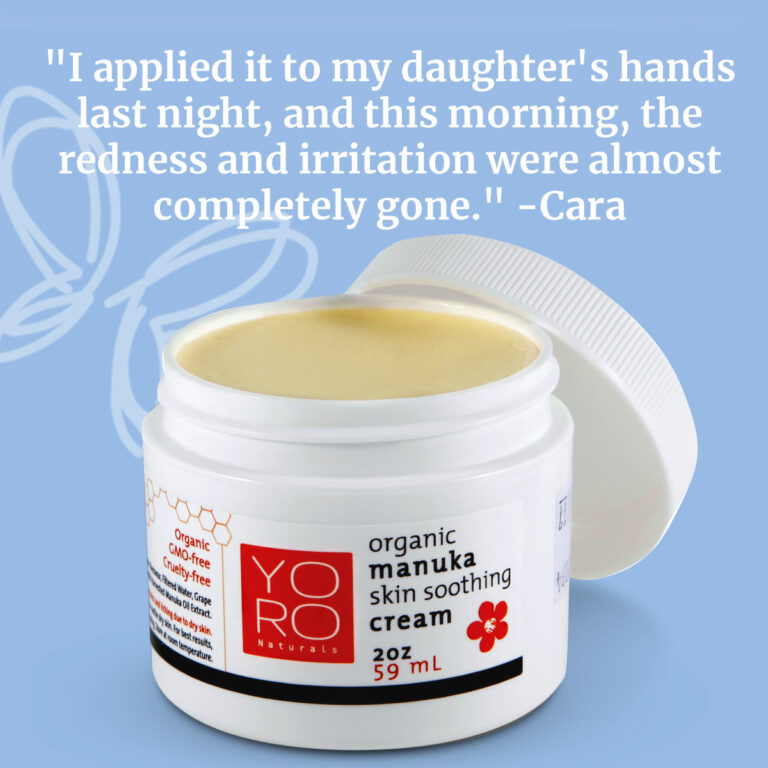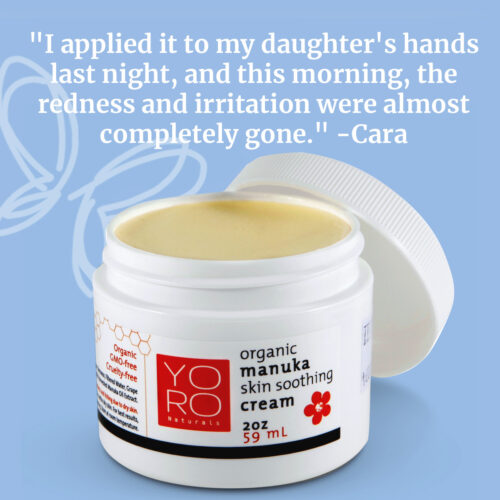 "I originally got this for my daughter's eczema, but now also use it as my own face cream! I love the luxurious texture, it feels very nourishing" – Heather B. (Yoronaturals.com)
Directions for Use :
Apply as needed to relief itching and redness due to dry skin. Best when used on slightly damp skin for the ultimate in moisture therapy.
Store at room temperature.

Made in Canada.