Mummies are always looking out for natural or organic skincare products for their little one, especially when the little one has eczema-prone or sensitive skin. Sometimes, we are spoilt for choices from the variety of brands and range that is available in Singapore.
We are happy to recommend & highlight the features of 2 good quality brand of natural and organic eczema skincare range which is available in Singapore – Cherub Rubs and Buds Organics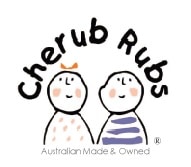 About Cherub Rubs
Cherub Rubs is a baby skincare range product, developed by an Australian naturopath. Their products are fully certified organic – not just a couple of organic ingredients, but more than 95% of all the ingredients in the majority of the product range are certified organic. This means that Cherub Rubs products are not just free of petro-chemicals, artificial fragrances and colours, DEAs, SLS, PEGs and preservatives, but also their products contains almost fully natural and organic ingredients.
Natural Skincare for Eczema Relief
There are two Cherub Rubs' skincare products that are suitable for sensitive and eczema-prone skin for infant and children.

Cherub Rubs Baby Safe Hair & Body Wash : This 2-in-1 wash is all-natural and safe, even for newborns. It uses a blend of tea tree and lemon essential oils. This naturally lathering shampoo and body wash cleans the hair, skin and scalp, and is free from parabens, sulphates and petrochemicals. Tea tree oil is a natural antiseptic to prevent infection of broken skin rash. However, do note that it may sting a little for bigger wound or scratches.
Cherub Rubs Skin Soothe : This is a lighter lotion, aloe vera-based mild antiseptic to help relieve itching from dry skin and eczema. It can soothe dry or itchy skin to prevent irritation and further scratching. It provides some relief with a mild cooling sensation.
There has been many good customer testimonials on the effectiveness of Cherub Rubs in helping to improve eczema condition. A mummy's testimonial (extracted from www.cherubrubs.com.sg) :
"My little boy's skin has been in very good condition, whenever he is on Cherub Rubs. For his daily skin care regime, I use Baby Body & Hair wash to bathe, then apply Skin balm all over his body, and apply an especially thick layer at the nappy area as barrier cream" – Teresa S
About Buds Organics
Buds Organics is world's largest line of certified organic baby and mother care products. Their products are packed with wonderful natural and organic actives.
This organic skincare range for babies uses the finest organic plant ingredients so that sensitive baby's skin is not exposed to pesticides, herbicides and other potentially harmful chemicals unnecessarily. Only safe and mild preservatives that have met ECOCERT's strict requirements. These ingredients do not harm baby and will biodegrade safely into components that will not harm the environment. Buds Organics is EU tested for safety – sending their products to UK for comprehensive safety and preservative tests.
ECOCERT conducts inspections in over 80 countries, making it one of the largest organic certification organisations in the world. When you purchase an ECOCERT certified product, you can expect the following:
Pesticide and herbicide free organic ingredients. Cold-pressed organic oils. Organic actives free of harmful solvents and preservatives that can compromise the skin's healing process.
Another highlight of this certified organic skincare, plus point compared to many others – is that it contains prebiotic that supports the healthy bacteria on your skin while inhibiting the growth of detrimental bacteria.
Free from Sodium Lauryl Sulphate (SLS), Sodium Laureth Sulphate (SLES), Steroids, Parabens, Mineral oils, Petrochemicals, PEGs, Phenoxyethanol, Fomaldehyde, Artificial colours, Artificial fragrances.
Buds Soothing Organics Range for Eczema Care
Babies with eczema need extremely gentle cleansing using natural skincare product regime. The latest research has also shown pre-biotics to be valuable to the management of eczema. Pre-biotics can help to prevent future flare-ups by strengthening the skin's protective barrier and normalising the skin's immune system. Time tested and clinically proven, their Super Soothing range is steroid-free solution for babies and children suffering from atopic dermatitis. It is designed to support, enhance and work with your child's skin's natural healing mechanism to ensure a speedy recovery. Long term use will also minimize risk of recurrence, decreasing the chances of your child suffering from the chronic discomfort caused by atopic dermatitis.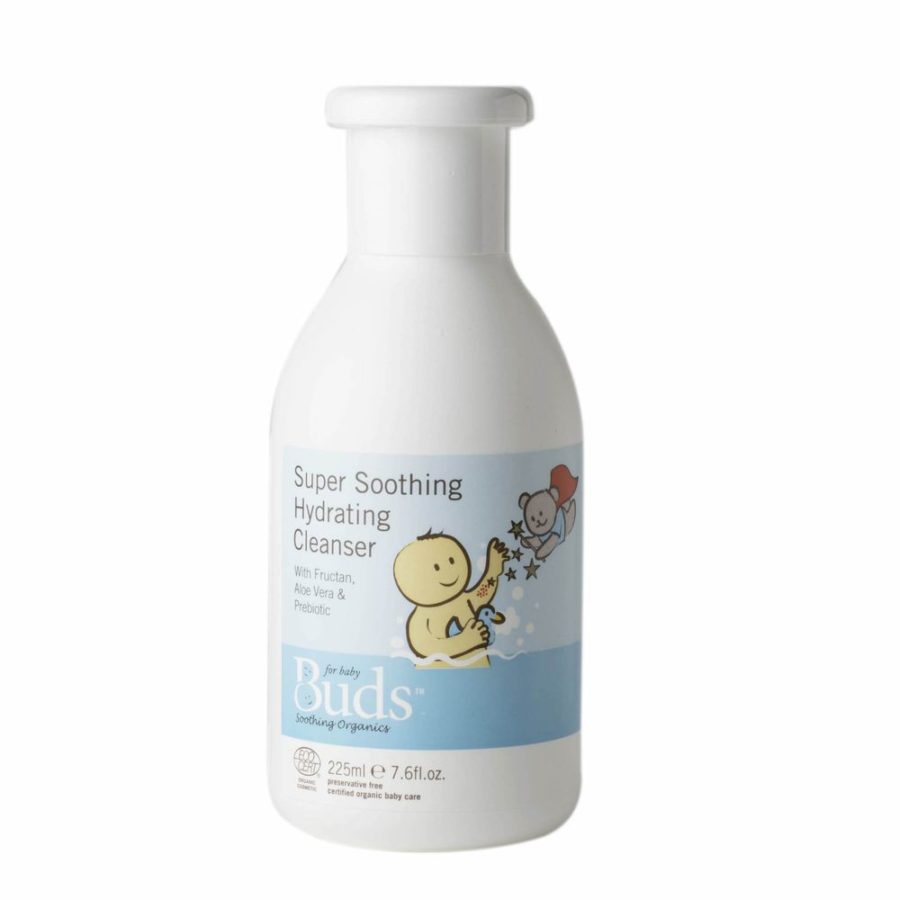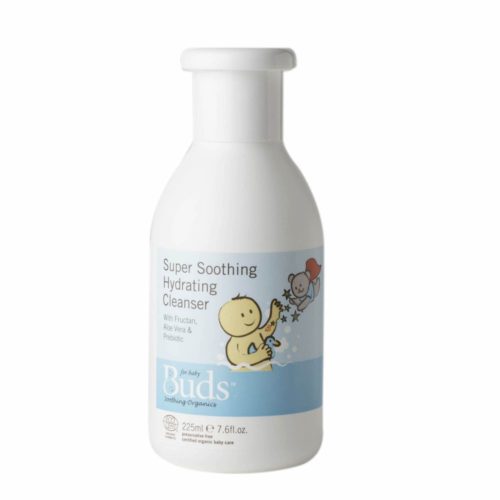 Super Soothing Hydrating Cleanser :
Cleanse sensitive and eczema-prone skin as gently as possible with their Super Soothing Hydrating Cleanser and treat baby to a prebiotlc enhanced bathing experience. Gluco-oligosaccharide is a prebiotic that selectively fuels the growth of the healthy bacteria on your baby's skin while inhibiting the growth of detrimental bacteria. This cleanser combines soothing Aloe Vera and hydrating Fructan.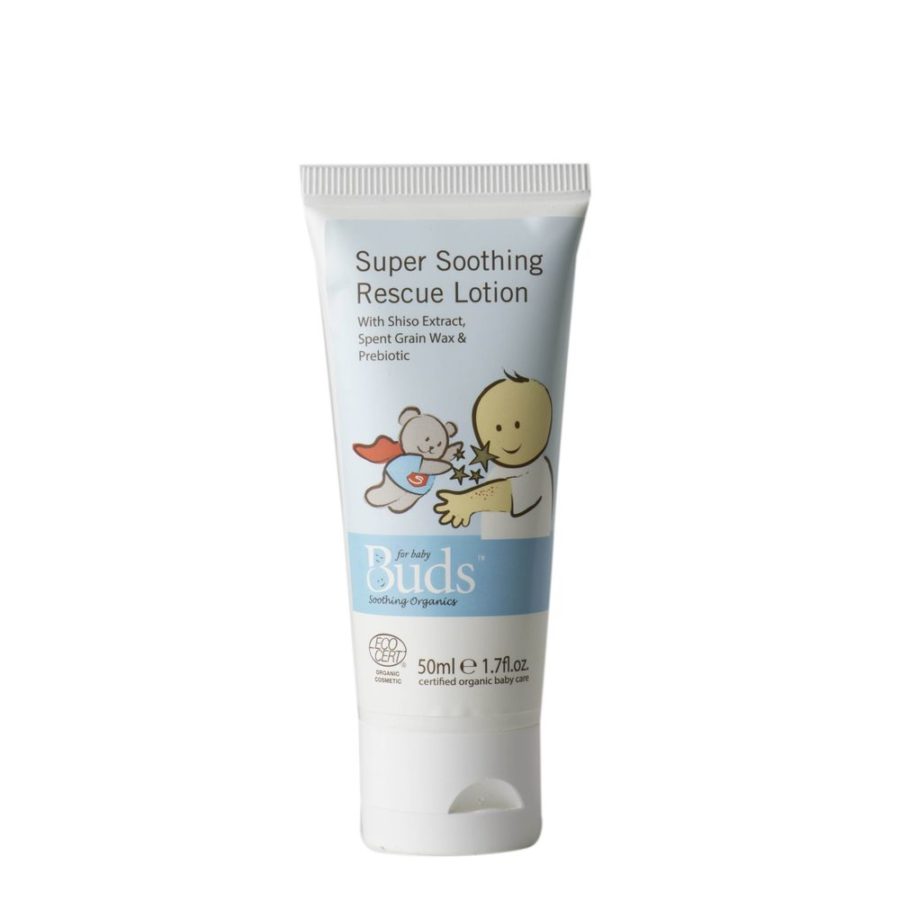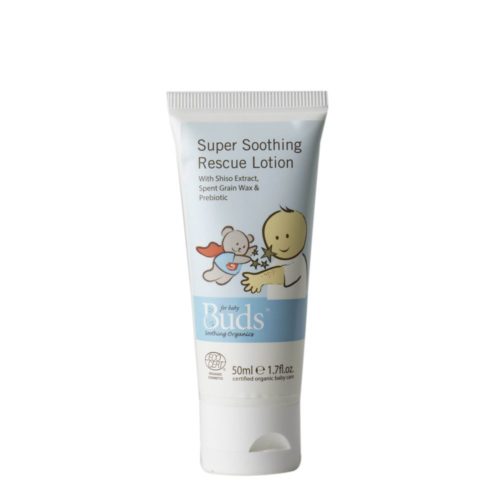 Super Soothing Rescue Lotion :
Super Soothing Rescue Lotion can be used to soothe eczema prone skin. Gluco-oligosaccharide is a prebiotic that selectively fuels the growth of the healthy bacteria on your skin while inhibiting the growth of detrimental bacteria. Packed with a thoughtfully selected combination of ingredients like calming Shiso extract, soothing Aloe vera, recovery boosting Spent Grain Wax, antioxidant rich Olive Leaf extract and hydrating Fructan, this gentle lotion is filled with natural goodness. This lotion's base consists of lush Jojoba, Sunflower and inca inchi oils, giving a light natural pleasant fragrance.
Our recommended regime for babies with eczema or dry skin is : Wash baby with Buds Organics Super Soothing Hydrating Cleanser, moisturize and then protect with their Super Soothing Rescue Lotion.
If your baby has sensitive, dry and rashes, you should avoid using conventional baby wash and cream which may contain chemical preservatives and artificial fragrance. Their skin can easily flare-up with the exposure of harsh products. This range of organic and natural skincare range will keep your little one comfortable and protected.
Customer Testimonials :
"I like Buds because it is very effective compared to other products. I have tried more than 5 other products but none of them is as effective as this. I like everything about this product, including its smell, texture, packaging, etc. Some other products really does not smell this good! It is not a fragrance smell but it just smells good, especially the lotion! The texture is just nice, not too thick nor too watery." – Madam Tan
"Buds helped my baby to recover from itching and reddish skin. After using this product, my baby can sleep well. With Buds Soothing Organic, no more eczema, steroids and poison… At night, my baby and me can sleep well." – Siti Noor
Due to the high quality of this organic product and pre-biotic content which can help boost eczema skin's compromised immunity, we have made Buds Organics Super Soothing Eczema range available for our readers. Unsure if it will work for you? Try out their trial pack size of Eczema Mini Pack today – now available at Skinshare.sg
Buds Organics Super Soothing Eczema Range
• Certified Organic and ECOCERT-certified• Organic skincare for Eczema relief • Safe for newborn, adult and elderly
We have different sizes available :
Samples sachets – for small patch test trial
Trial packs  – neat for bring around during travel or to try for a couple of weeks to gauge the effectiveness
Normal size – for more economical and continuous regime