Why QV Dermcare® Eczema Daily?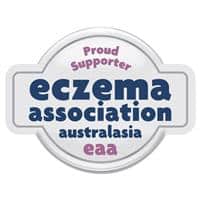 QV Dermcare Eczema Daily is a therapeutic range consisting of a cleanser and moisturiser to help relieve the symptoms of mild to moderate eczema. Scientifically formulated with the combination of ceramides and moisturisers to help repair the skin barrier and improve skin hydration.The advantage of this ointment is that it's sting-free and can be used on wounded eczema rash. Used in hospitals and clinics as a skin barrier and moisturizer for mildly wounded/scratched eczema skin for children and adults.
Direction of Use :
Apply liberally where required on face and body, massage in gently. Use after bath and showering.
Tips :
For best results, use in conjunction with QV Dermcare Eczema Daily Wash to gently cleanse mild to moderate eczema skin.