Does the type of clothing you wear to sleep at night make a difference in your quality of sleep?
In what is probably the biggest test of its kind, the Royal Free London NHS Foundation & University of Nottingham started a 2 year long study with 300 children to see if wearing silk clothing could help them with eczema.
The idea is the rough fabric, or even rough bedsheets, can aggravate the itchy symptoms of eczema, particularly during sleep. Eczema skin is so sensitive to rough material and thus, rubbing at night against rough fabric may awaken you.
Some points to take noted when choosing a fabric to have a better sleep at night :
When it comes to bedsheets, higher thread counts don't really matter
Yes, it's tempting to pick up that nice 800 thread count Egyptian cotton bedsheet, but rather, the feel of the fabric over your skin is more important. True enough that generally Egyptian cotton with higher thread count tends to be smoother. Another good material would be to choose cotton sateen bedsheets  which tends to have the best feel and breathable for the hot and humid weather.
It's important that you open and feel the bedsheet for yourself or let your child feel it, since nobody else can really tell whether it will irritate the skin.
When it comes to clothing, it's a trade-off between breathability and smoothness
Apart from silk, rayon-polyester or cotton-polyester clothing has the smoothest feel. However, in Singapore's tropical weather, it can make you feel quite hot. 100% cotton fabric has the best breathability, but it tends to get "furry" after several washes, making it rougher for the skin.
If you have a dust mite allergy, then a microfibre matress cover is more important than the bedsheet
Also known as anti-dust mite mattress covers or mattress encasements, these are used to completely wrap the mattress so that dust mites can't get out and irritate your skin with their droppings. This will be extremely useful especially if you know that you have dust mites allergy. How to tell? You can read this related article.
Sleeping without scratching gives your skin a chance to heal, thus lessening the need to scratch anyway.
Once you find a material that works for you, it can make a big difference to the quality of your sleep at night. Sleeping without scratching gives your skin a chance to heal, thus lessening the need to scratch anyway. So choose wisely and try to break your cycle of interrupted sleep!
Learn more:
Watch BBC report: Eight-year-old Tahmid Ahmed,of Nottingham, hopes the clothing will make his life more comfortable.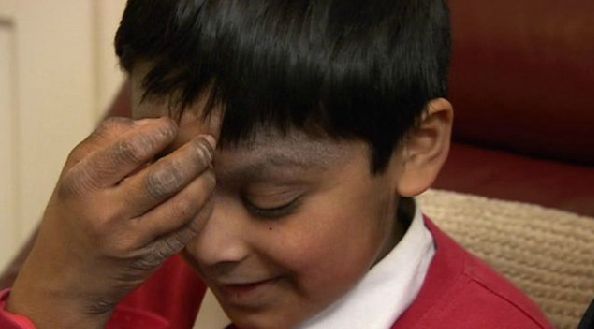 Main photo credit: Robert McDon. via photopin cc