A barrier cream is a topical formulation used in industrial applications and as a cosmetic to place a physical barrier between the skin and contaminants that may irritate the skin. Three classes of barrier creams are used: water repellent creams, water-soluble creams, and creams designed for special applications. Barrier creams may contain substances such as zinc oxide, talc or kaolin (clay mineral) to layer over the skin. The overall efficacy of barrier creams to treat hand eczema and occupational contact dermatitis has been widely disputed.
Is Barrier cream effective in treating eczema?
They have not been demonstrated to be useful in treating hand eczema and according to the World Health Organization, they are not very effective at treating irritant contact dermatitis in nurses. Skin that has been moisturized by barrier cream may be more susceptible to irritation by sodium lauryl sulfate, which can permeate hydrated skin more easily.
Common problems associated with commercial barrier creams include:
Dry skin
May cause mild itching, burning, or stinging in sensitive skin
Acne
Severe allergic reactions (rash; hives; difficulty breathing; tightness in the chest; swelling of the mouth, face, lips, or tongue)
What lotion should you use to protect your skin?
In recent years, many dermatologists have begun recommending shielding lotions as an alternative to barrier creams.  According to the National Safety Council (nonprofit, nongovernmental public service organization promoting health and safety in the USA), "shielding lotions can keep the skin from drying out". By bonding with the outer layer of skin, a shielding lotion simultaneously keeps out contaminants while sealing in natural oil and moisture. The result is a non-toxic, hypoallergenic natural moisturizer with skin protecting qualities.
How is a shielding lotion different from moisturizer?
Conventional lotions only attempt to replace your natural moisture with artificial moisture but they need to be constantly reapplied because every time you touch something or wash, they come off.
Shielding lotions are different because they actually bond with the outer layer of skin cells becoming part of the outer layer of skin itself. They come off naturally as you exfoliate your outer layer of skin. Read more about how a shielding lotion works here.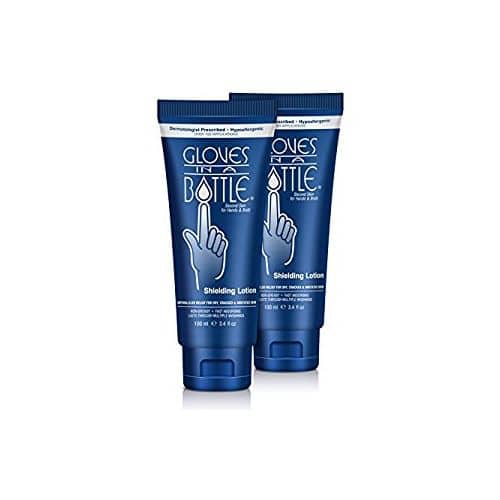 Gloves In A Bottle shielding lotion is 100% paraben, phthalates, triclosan, sodium lauryl sulfate (SLS) / sodium laureth sulfate (SLES), formaldehyde, toluene, propylene glycol, gluten, dairy, wheat, animal products and cruelty free. It is dermatology tested and prescribed, hypoallergenic, non-comedogenic (will not clog the pores), added fragrance and colorant free and every ingredient is on FDA's most safe list.
Customer testimonials
Gloves In A Bottle have been established for many years, effective for many skin condition such as dry skin, eczema, psoriasis, dermatitis, skin allergy, cracked skin. It has been widely used in USA and UK for many occupational protection lotion such as nursing, services (hairdresser), construction, farming, cleaning and many others. Find testimonials from many different consumers who use it to protect their hands from daily work here: http://www.glovesinabottle.com/testimonials.html
Many Singapore users have also discovered shielding lotion is the correct solution to their skin condition, rather than conventional moisturizer or barrier cream.
I used these a couple of year back. And then after many other lotions later, I've decided these are still one of the best hand lotions! ?  – JEN
GIAB really works well in protecting my skin and prevent it from cracking and involuntary chafing. I've tried so many products before – anti-fungal, anti-bacterial, anti-inflammatory, even an ointment which has all three, and they only saved my skin from soreness, and the cracks and chafes remain. Those makes me insecure whenever I meet people and I have to shake their hands and worry what they think. Turns out there's nothing wrong with my hygiene, and my skin is super sensitive as regards certain chemicals. The GIAB certainly solved a lot of my skin anxieties; it's so effective in protecting my hands from certain chemicals. The GIAB from Bee is also the best price there is in the SG market.Highly, highly recommended! – Rich Maca
Protect your sensitive skin from dust, chemicals and irritants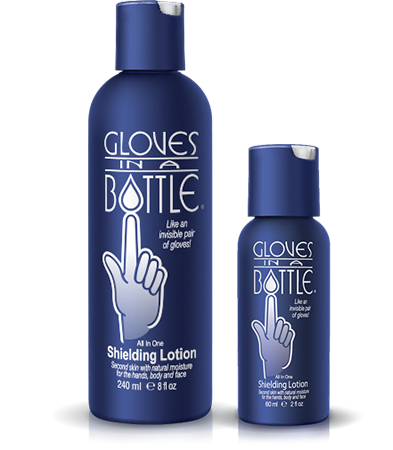 Now available in Singapore! Gloves in a Bottle Shielding Lotion replenishes the protective layer of the skin and allows your skin to heal with its own oils and moisture.