Most of us are busy with our everyday work or daily routine tasks. Thus, having a customized snack box which is itch-free ingredients and healthy for skin will definitely be helpful. It allows us to enjoy a healthy snack in between meals or you are taking a break at work.
Made Real is a subscription service that curates wholesome, delicious snacks for our health goals and nutritional needs. Bee, Skinshare Singapore's nutrition therapist & Rosyln, MadeReal's co-founder worked together to select from their extensive range 6 suitable eczema-friendly snack box.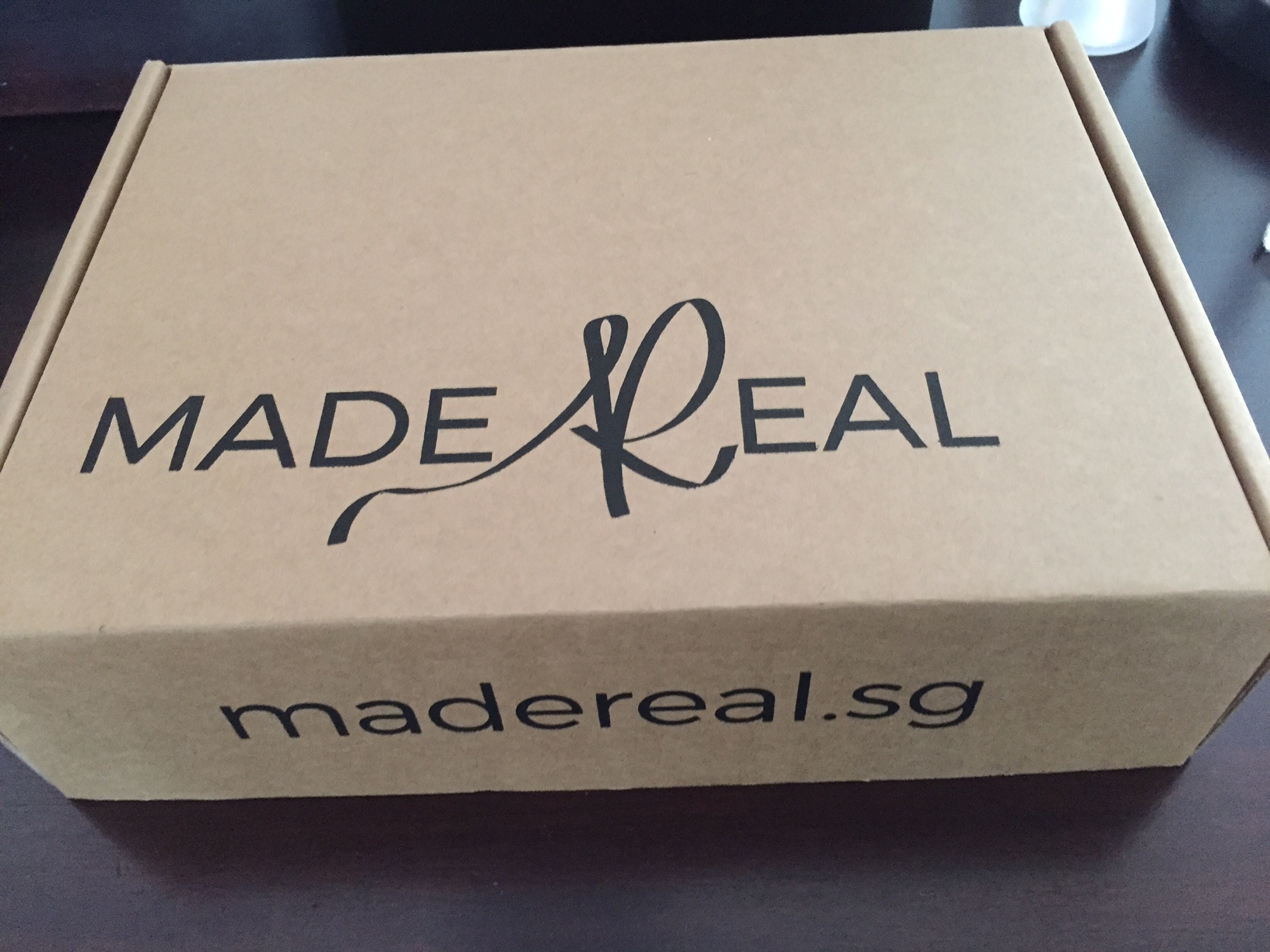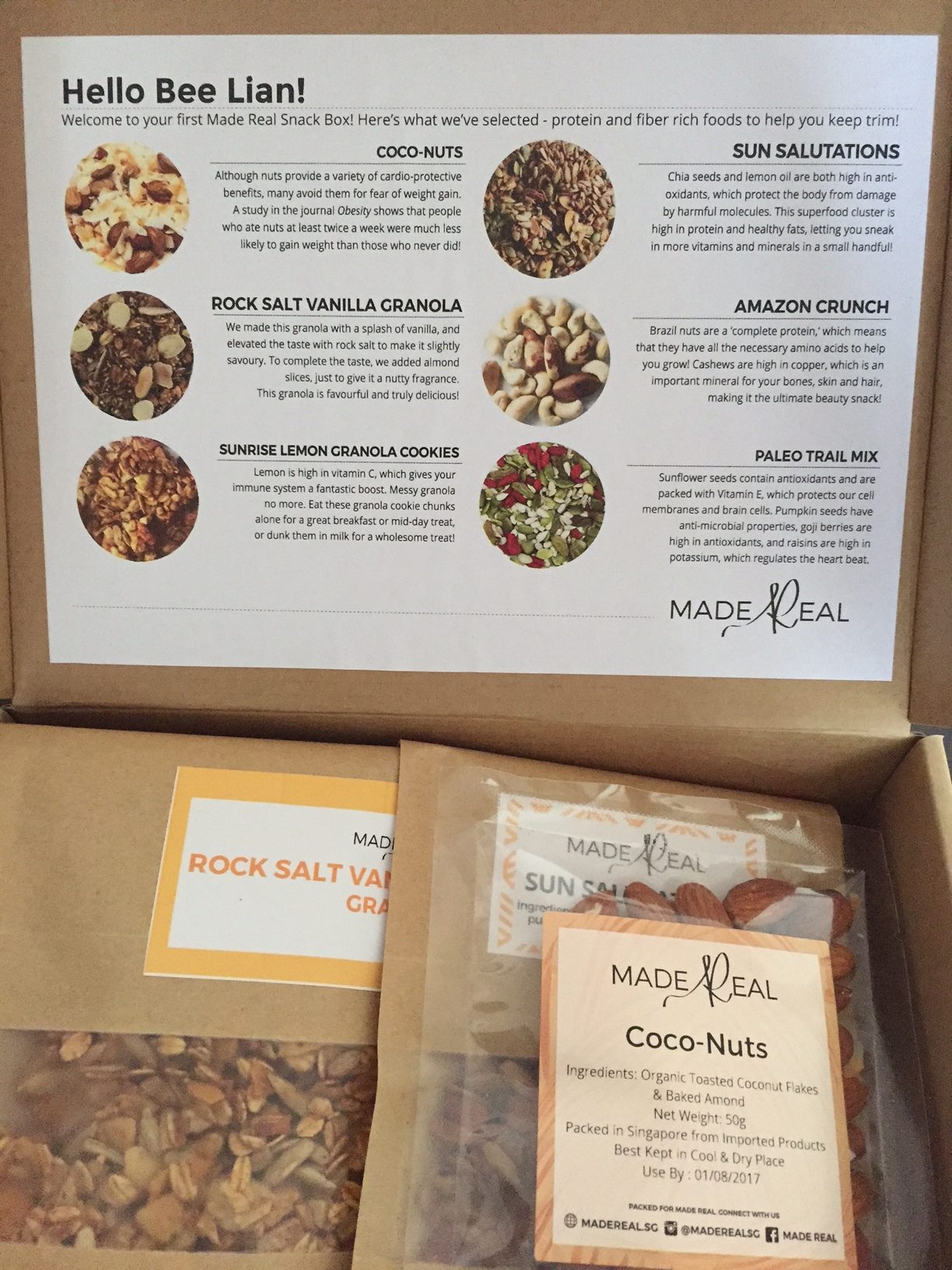 Their snacks are carefully packed in a simple personalized box. It has a little greeting message and summary of the 6 snack sachets in the box, detailing the nutritional benefits. So, what is exactly in the content of the eczema-box that we have curated?
Coco-nut

Ingredients : Organic Toasted Coconut Flakes & Baked Almond This is a simple snack, without any additional sugar or salt in the baking process. Almond is one of the lower alkalizing nuts. It has a range of minerals – calcium, magnesium, manganese, phosphorus, potassium, copper to support the general well-being of our body and skin.
Sun Salutation

Ingredients : Lemon oil, almond, chia seeds, pumpkin seeds, sunflower seeds, himalayan rock salt, agave nectar Chia is derived from the ancient super-food chia, which is the richest botanical source of Omega 3 essential fatty acids found in nature. Omega 3 is essential for healthy skin can only be obtained from diet. Omega 3 is better absorbed from foods rather than supplement. Himalayan rock salt is a naturally occurring salt rich in a number of minerals. Sunflower and pumpkin seed are good antioxidant for general well-being.
Rock Salt Vanilla Granola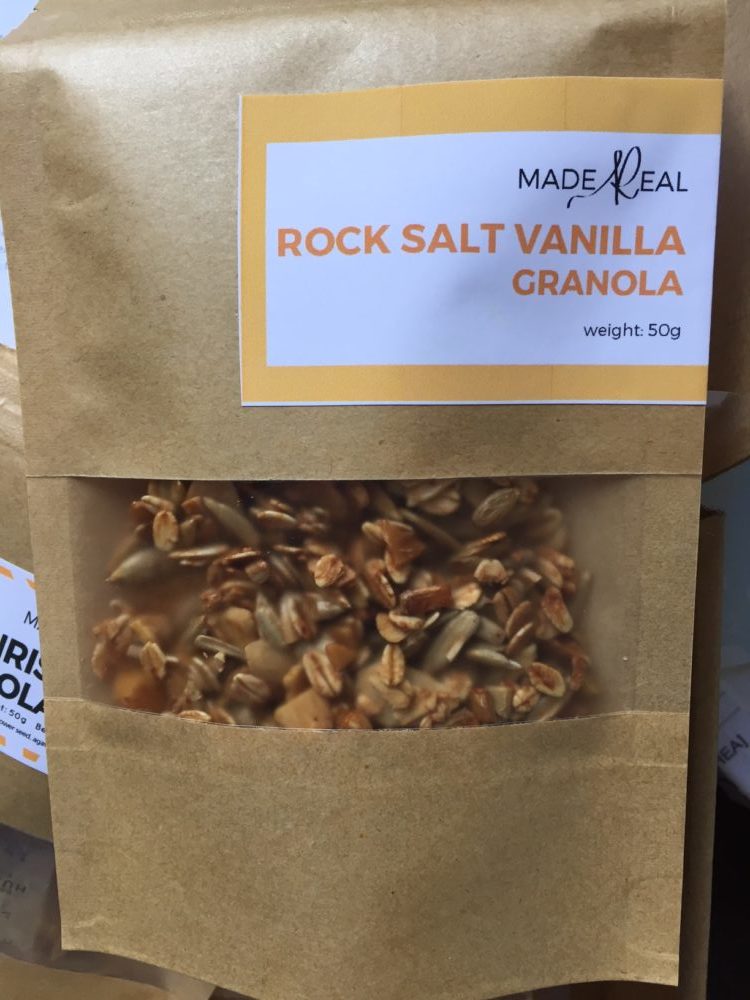 Ingredients: Chia Seeds, Quinoa, Millet Seeds, Rolled Oats, Buckwheat, Pumpkin Seeds, Sunflower Seeds, Agave Nectar, Coconut Palm Sugar, Coconut Oil, Himalayan Rock Salt, Vanilla Extract (Pure), Almond Slices Power-packed with nutrients and minerals, these ancient grain granolas contain very high levels of protein and fiber. A key ingredient, millet, is known for its high amounts of manganese, copper and magnesium. Quinoa and oat are both eczema-safe because they are low in natural chemicals and contain no artificial additives.
Amazon Crunch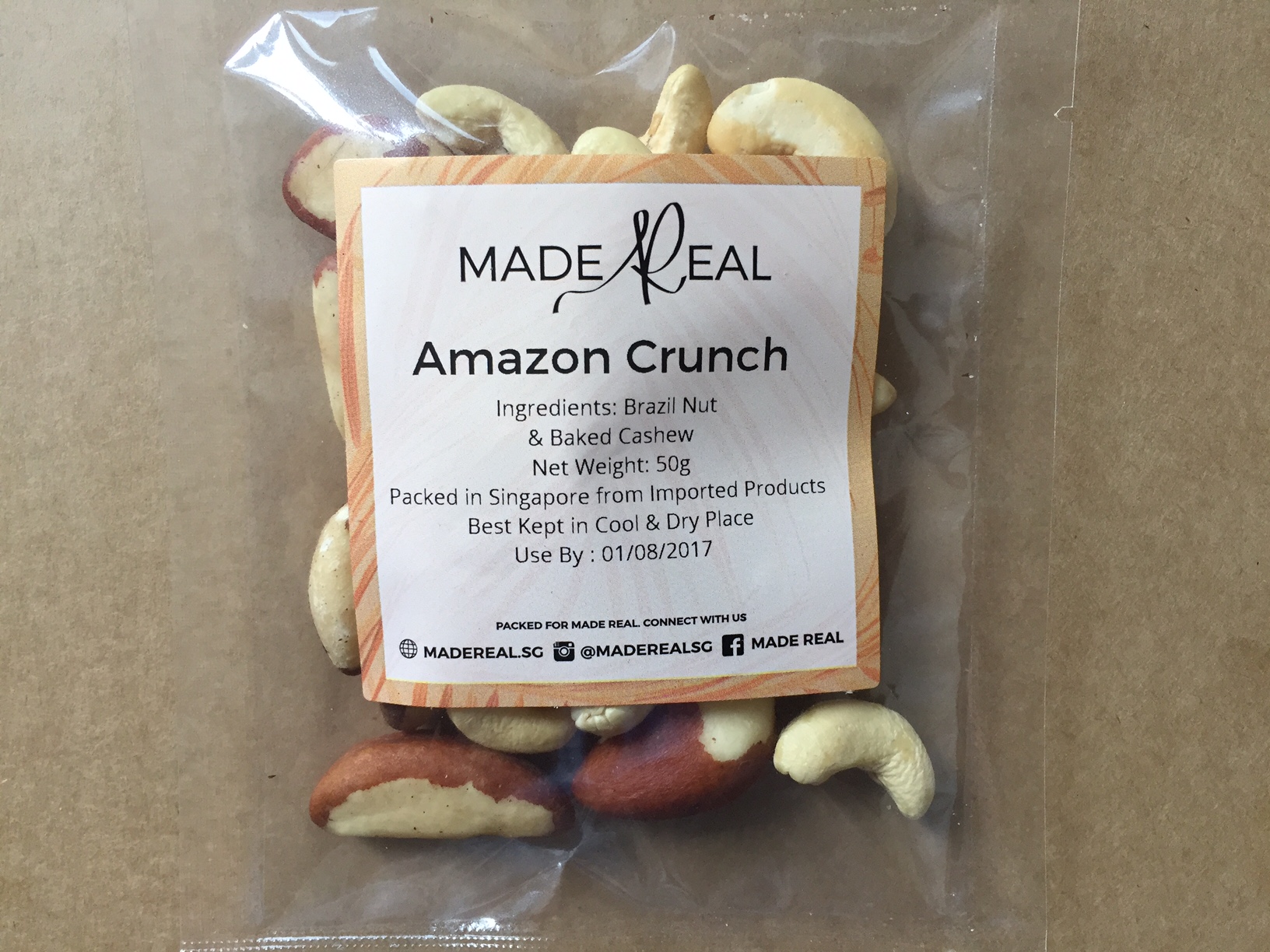 Ingredients: Brazil nuts, baked cashews Brazil nut is low-alkalizing nut and it is abundant in vitamin E and selenium. Vitamin-E is a powerful antioxidant. It is required for maintaining the integrity of cell membrane of skin by protecting it from harmful oxygen-free radicals. Selenium has anoxidant properties help to protect against free radicals and carcinogens, reduces inflammation and stimulates immune system to fight infections.
Sunrise Lemon Granola Cookies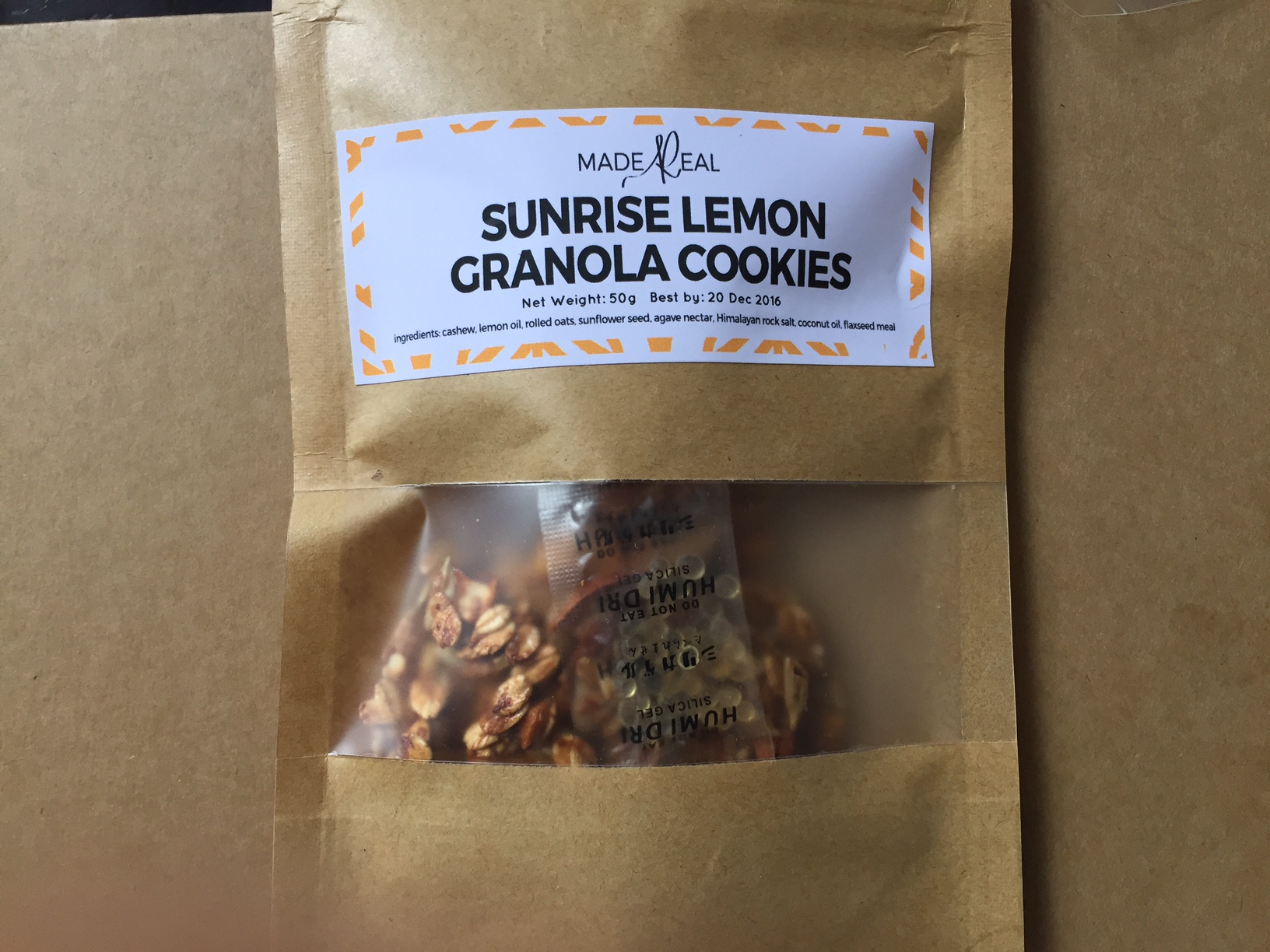 Ingredients: Cashew, lemon oil, rolled oats, sunflower seed, agave nectar, Himalayan rock salt, coconut oil, flaxseed meal Flaxseed, also known as linseeds are small brown seeds best known for their rich content of anti-inflammatory Omega 3. Flaxseed is also low alkalizing, making it one of the top eczema food. Coconut oil strengthens the immune system because it contains antimicrobial lipids, lauric acid, capric acid and caprylic acid, which have antifungal, antibacterial and antiviral properties.
Yin Yang Beans
Ingredients: Black bean, edamame Black bean, edamame and most peas and legumes are generally eczema safe food. All beans are good anti-oxidant which have many vitamins and minerals to support a healthy body function. After tasting all the above, the ingredients are fresh and the combination tastes yummy. Each pack is naturally flavored by either Himalayan salt or agave nectar and some just bursting with natural nutty goodness. They can be eaten on their own or added into your cereal or oat in the morning. As for the price of each box, $24.90 including delivery is really value for money considering the good quality ingredients that goes into each snack pack. Plus, you get 6 different packs! However, if you prefer to select and choose your own snacks, you can do so & get 5% discount of your total order with discount code "SS5OFF". If you want the above default customized eczema box, enter "ECZEMA" in the discount code before check-out to get your 10% discount and customized box. Enjoy your snacking!
Don't forget to enter the "Coupon code" to get the discount and the desired snack box. Offer : 5% OFF | Coupon code : SS5OFF  |Offer : 10% OFF | Coupon code : ECZEMA  |