Used in hospital/clinics and home-care for these conditions
Pediatric: Cleansing for children above 3 years old
Dermatology, Urology : Daily wash
Gynaecology: Vaginal wash, post-delivery soap cleanser>
Diabetic : Bed-sores, skin ulcers and wound
ICU: Routine cleanser prior to patient handling
General : Patient wash, handwash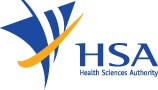 Singapore HSA Approved
Why choose Hospigel over other cleanser for eczema wound or blisters?
Eczema inflamed skin which is broken or scratched and injured needs to be cleansed with antiseptic or appropriate wound wash. This is required in order to avoid infection which can further aggravate the rash.
Hospigel is recommended by doctors and used in hospital for wound care, thus this product is trustworthy to be safe for our skin. If you have sensitive skin, Hospigel does not sting and is very mild even for broken wound. It is also paraben-free and fragrance-free, thus suitable for any skin type, especially sensitive skin.
The added advantage of Hospigel wash over many other cleansers is that it gently cleanses skin without drying it, and can be used daily.
Method of use and dosage :
– Manually apply a small amount with previously moistened hands. Rubbing lightly will achieve an excellent and refreshing foam that will completely remove body and hair dirt.