House Dust Mites are one of the most common cause of eczema flareup, allergic asthma and sinus. You may not have done a blood test or skin prick test to confirm the reaction, but you can sense it when you start to itch more at night or sneeze non-stop early in the morning. If you little one jumps up and down the bed or sofa, you start to scratch. Or maybe you start scratching after hugging some of your soft-toys.
If you have done a skin prick test or allergy blood test to confirm that you have dust mites allergy, you should continue to read this article. It will help you to effectively minimize your exposure to dust mites and avoid flareups.
Our Mattress is populated with millions of dust mites!
Did you know that bed that we spend 8 hours every night is the place with the most dust mites?  There are many ways to avoid or prevent dust mites and dust mites droppings from irritating your skin eg. wash your bedding in hot water, sun your pillows etc. However, the most effective and convenient way would be to prevent the dust mites & their droppings from skin contact by encasing the mattress with a tightly woven dust mite encasement.
The mattress protector that you see in most departmental store that looks like a duvet or has anti-dust mites logo on a mattress padding is not good enough. In fact, after a few washes, these will attract even more dust mites and no longer kill the dust mites as it claims. It also does not protects your skin or airway from the dust mites droppings from the mattress.
A typical house dust mite measures 0.2–0.3 millimetres (0.008–0.012 in) in length. Thus, a proper dust mites encasement has to be woven very tightly but yet breathable for sleeping comfort. A mattress or pillow protector need to be encased with a zipper closure to ensure complete protection.
Reliable, comfortable mattress encasement
 
AllerGuard® is a complete line of allergen proof bedding and encasings developed for people who suffer from asthma, eczema or other allergies, and for all who wish to have a cleaner and healthier bedroom environment. It is designed base on advanced, woven micro-fibre barrier against house dust mites and other allergen particles.
This product from Europe is a result of many years of research and laboratory testing. AllerGuard® has the Seal of Approval from the Danish Asthma-Allergy Association. The super tight weave of AllerGuard® prevents house dust mites and dust allergens from penetrating normal bedding. Air and moisture can pass through the fabric freely, thus assuring sleeping comfort, unlike other encasement which may feel 'plasticky' & unbreatheable.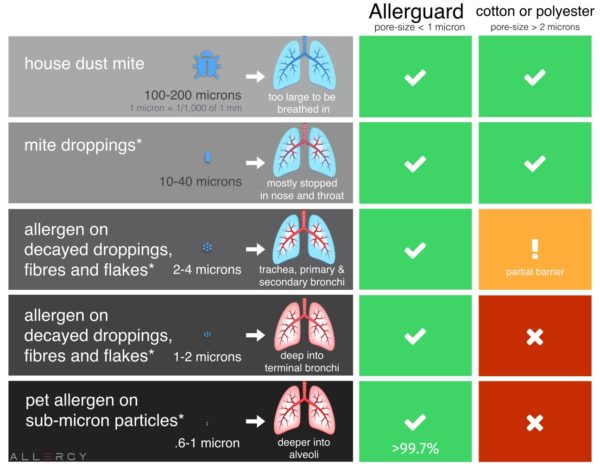 In Singapore, AllerGuard is sold by Allergy Store Singapore, pioneer in the allergy-care industry by bringing allergen-proof bedding and anti-allergen solutions to Singapore.
How to choose the correct bedding to encase?
Ideally, every piece of bedding including pillow, bolster and mattress in the room which you/your child with allergy is sleeping needs to be encased. The reason is because if you only encase your mattress, the dust mites can still populate in the pillow and bolster. You will need to machine wash your pillow/bolster in hot water (above 60 degrees to kill dust mites) in order to kill the dust mites.
If you have several mattress/pillows in the room, you should either remove them to minimize dust mites collection or encase each and every bedding piece. It may be quite pricey to encase every single bedding item in the whole house! So the priority is to first encase the bedding that your child is sleeping on, and remove the rest of the bedding to another room.
Order your Allergy-Proof Bedding
Allergy Store Singapore offers Free Delivery for orders above a certain amount. If this is your first time purchasing a mattress encasing for your room, it would be better to buy the bundle set to give you more value for money (~20% savings). The Complete Allergy Set includes :
AllerGuard covers shield against mite droppings (and other dust) for 1 x mattress and 1 x pillow
Acaril destroys mites in blankets and sheets during washing (washing removes their droppings) – 1 250ml bottle
Acarosan spray kills mites in rugs, carpets, upholstery, and stuffed toys. Droppings can be vacuumed up – 1 bottle
Alternatively, you may purchase individual bedding encasement as well :
In addition, their online store also offers high grade Air Purifiers that can help to relief allergy.
Exclusive for all Skinshare Singapore readers :
If you purchase any of the products from Allergy Store Singapore, drop us an email ([email protected]) on your order number and we will send you a sample of our bestselling shielding lotion.