Ezerra Cream by Hoe Pharmaceuticals is a popular product for children and babies with dry and itchy skin.
But, did you know that Hoe Pharmaceutical also has formulated a new product known as Ezerra Plus cream? Ezerra Plus cream is formulated to relieve extremely itchy, scratched skin that is susceptible to infection.
Most consumers are aware of Ezerra cream, as it is regularly prescribed by dermatologists and/or pediatricians. It's also available in many pharmacies. Many parents also recommend this product to their friends.
What's the difference between Ezerra Cream and Ezerra Plus Cream?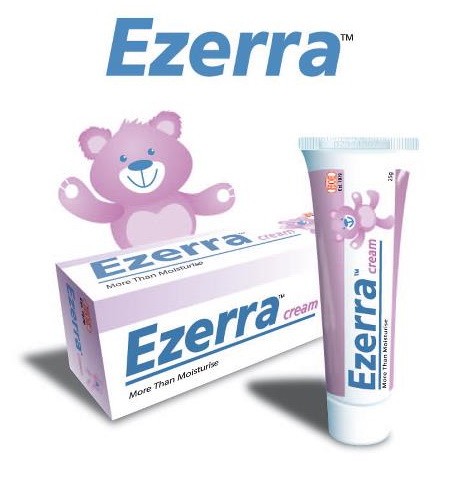 Ezerra Cream (as well as Ezerra Ointment) is useful if your baby or child's skin is dry and occasionally itchy. This eczema moisturizer helps to reduce itch, calm the skin and moisturizes the skin to keep eczema-prone skin feeling soothed and comfortable.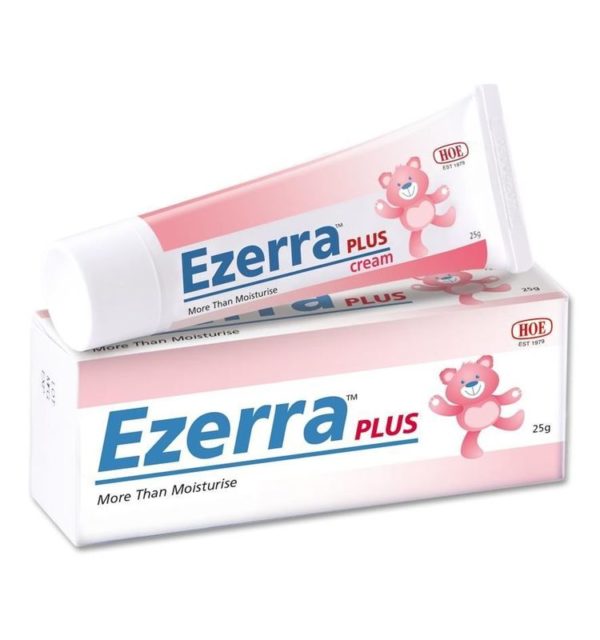 Ezerra Plus Cream is more targeted at children and babies with extremely itchy and damaged skin due to scratching. When skin is scratched and damaged, it is at risk of infection that can cause further itching and inflammation.
To break this vicious Itch-Scratch cycle you need an eczema cream like Ezerra Plus that can boost your child's own skin defense system to protect it against germs, bacteria and other infection-causing enemies.
Benefits of Ezerra Plus Cream
Ezerra Plus cream has anti-itch property which calms the eczema, stops the itch and strengthens skin function to minimize your child's discomfort and inclination of scratching dry sensitive skin.
This non-steroidal cream can be applied to babies as young as 2 weeks old. It has been proven to be effective in the management of all the symptoms associated with Atopic Dermatitis – swelling, blisters, rough, dry and itchy skin.
Read more: Baby's eczema gets better with the right creams
Ingredients in Ezerra Plus Cream
Both Ezerra cream and Ezerra Plus cream contain 2 active ingredients:
Stimutex-AS has anti-histaminergic properties. It blocks the release of inflammation markers e.g. cytokine and blocks histamine release (blocks pruritus, inflammation and reddening)
Saccharide Isomerate has unique moisturizing properties, it can attract, retain & regulate skin's moisture
In addition, Ezerra Plus cream contains an additional ingredient:
Tripeptide to boost your skin's natural defense system against microbes and other external agents that can cause infection in scratched skin
Ceramides 1, 3, and 6 II to help soothe skin irritation and form a protective barrier on skin to reduce dryness
If your little one is consistently experiencing extreme itchiness and have broken skin, you may apply this cream after you have cleansed the skin and applied the necessary medication as per your doctor's advice.
Where to buy Ezerra Plus Cream in Singapore?
The best place to buy Ezerra Plus Cream in Singapore is online at Skinshare.sg. Unlike Ezerra cream, Ezerra Plus cream can only be found in a few selected hospital pharmacies, making it difficult to find, especially for parents who need it urgently.
When you buy it online, you also get free delivery that takes 3 to 4 working days. But, if you need it urgently, we can also arrange for urgent courier delivery to get the product to you within 1-2 working days.
Ezerra Plus Cream comes in two sizes: 25g and 50g.
*** Get a FREE 10g sample of Ezerra Cream with every order of 50g Ezerra Cream or Ezerra Plus Cream (while stocks last) ***