Dina* in Yishun contacted us about the condition of her elderly mother's hand eczema.
Her mother's hands were dry, blistered and the skin was cracking open in places. Her condition was more pronounced at the fingers.
"The doctor recommended to apply moisturiser, but her condition is pretty bad and it wasn't helping much", she said.
Searching for a better solution, Dina contacted Skinshare.sg for advice. "I read all the good reviews from your previous customers so I didn't hesitate to try."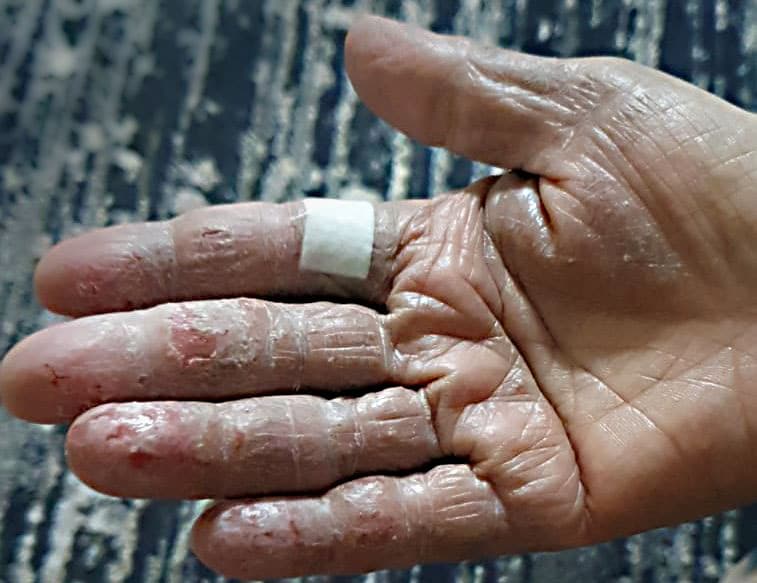 Why eczema is common in elderly senior citizens
Dry skin and eczema in the elderly becomes more common as people age. The oil content in skin becomes lower, and skin cells are not replaced as quickly. The skin becomes wrinkled and thin, and unable to retain moisture. This leads to scaly, itchy skin that is vulnerable to irritation.
Eczema flare ups can then be triggered by health changes, such as the onset of diabetes, poor diet, change in medication, incontinence and personal hygiene. Or, environmental factors such as frequent hand washing with harsh soaps and detergents, or being in an air-conditioned room all day.
To reduce the risk of COVID-19 transmission, people are encouraged to sanitise their hands when outside. Therefore, the use of alcohol-based hand sanitisers can also trigger a flare up.
Recommended eczema solution
Based on our discussion with Dina, we recommended her to take the following steps:
Step 1: Wash and clean open wounds and cracked skin
It may be counter-intuitive, but moisturiser should not be applied directly on broken skin, as it will cause more pain and slow the healing. Instead, broken and bleeding skin needs to be treated as if it were a wound.
We recommended her to wash her hands with Hospigel body wash. This is a mild, non-drying antiseptic wash, recommended by doctors and safe even for babies.
Step 2: Protect wounded skin from further infection
Next, we suggested she apply an antibacterial gel such as Argasol Silver Gel on open wounds. Antibacterial gels should be applied after cleansing and before moisturising. This prevents any further infection from occurring, and allows the skin to heal on its own.
Argasol Silver Gel is also antifungal and antiviral, and contains a food-grade gelling agent which makes it non-toxic and safe.
Step 3: Moisturise dry skin
Her hands looked inflamed and peeling, so it would have trouble retaining moisture. In this case, she needed to apply external moisturiser to reduce dryness. We suggested that she apply Y-Not Natural Omega 369 Pure Emu Oil.
Emu oil contains special lipids that match those in human skin, making it more effective at penetrating the skin's surface. As emu oil penetrates deeply in the skin, it improves the skin barrier and promotes healing. When the skin barrier is allowed to build up, so will its ability to retain moisture.
Finally, to prevent cracks from reappearing, we recommended her to follow up the emu oil with a moisturising ointment such as Kakadu Plum or ManukaRx Skin Rescue Ointment. Ointments are thicker than creams, so they provide a protective barrier on the skin to protect against irritants.
Results after two weeks
We rushed out the products to Dina, and she received it the next day. And within two weeks, Dina was happy to report that her mum's hands were getting better.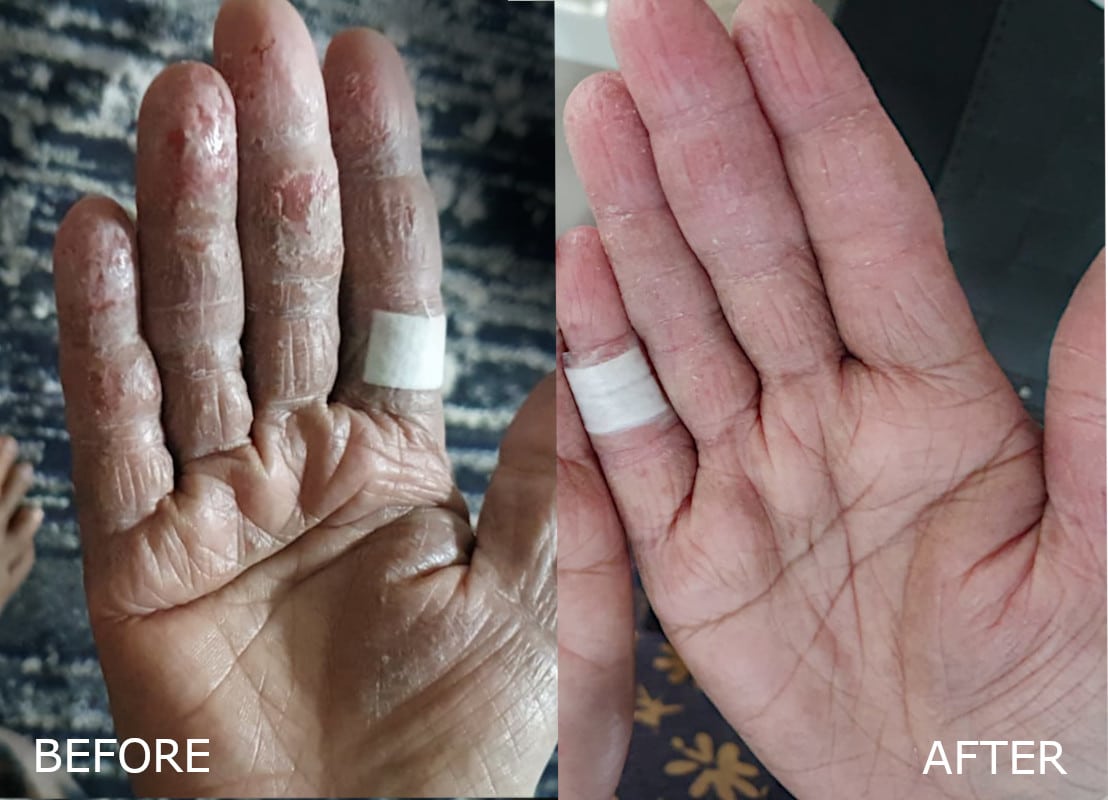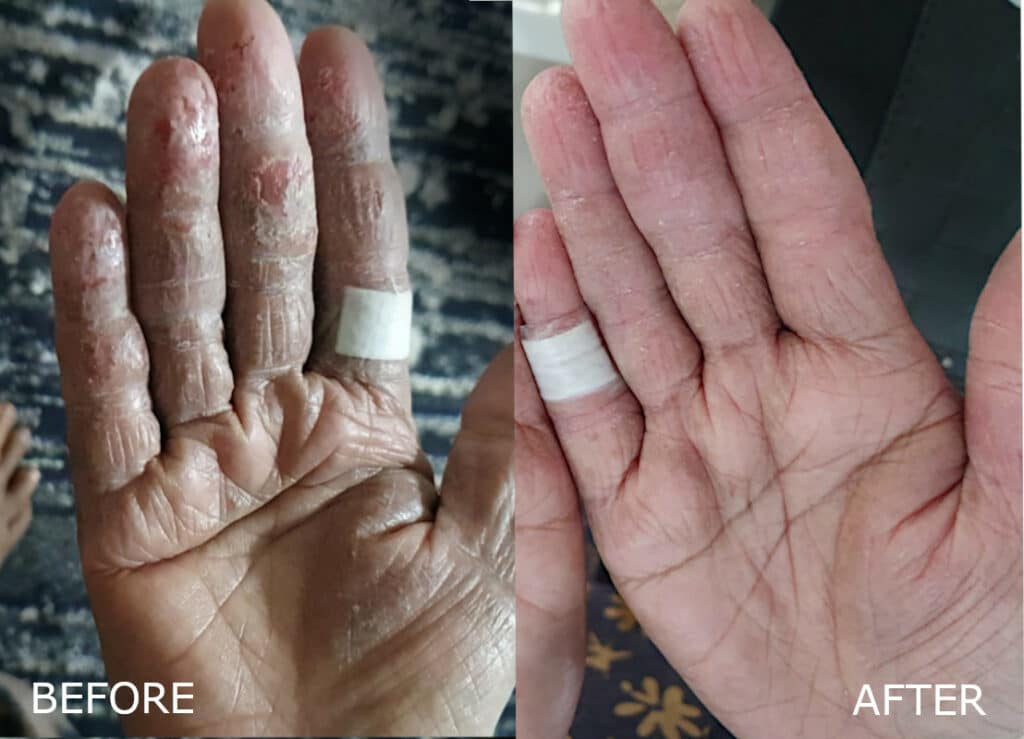 "My Mum was so happy to receive your parcel. Her skin is getting better 🥰. Thank you for walking through the steps with me. She will definitely get your products again"

Dina in Yishun
We are so glad to have helped Dina in Yishun, Singapore improve her mum's condition. Now her mother will be more comfortable, and resume her daily activities again!
Products that are recommended for elderly hand eczema:
About Skinshare Singapore
Skinshare Singapore is a skincare and nutrition platform for eczema. We source for the best skincare products from around the world to help the dermatitis/eczema community in Singapore and the region. Our goal is to help CALM, CARE and HEAL your skin for the long term, without resorting to harsh steroids or drugs.
[Welcome Offer] Enjoy 10% off your first order at skinshare.sg. Use promo code "FIRST" during checkout. While stocks last
* Names changed for privacy. Featured image shown for illustration only