Kendra (not her real name) suffers from persistent eczema on her hands and fingers. She thought she had it managed, but a recent holiday made her hands flare up into cracks and blisters.
With two young children, this condition was making it difficult for her to take care of her family, such as bathing her kids.
"I have seen a doctor before for my eczema and they prescribed steroid ointment. I also wear gloves when doing housework."

Kendra
After returning from holiday, her hands became inflamed and itchy for no apparent reason. The skin started to flake and peel, and she found it hard to bend her fingers without the skin cracking into an open wound.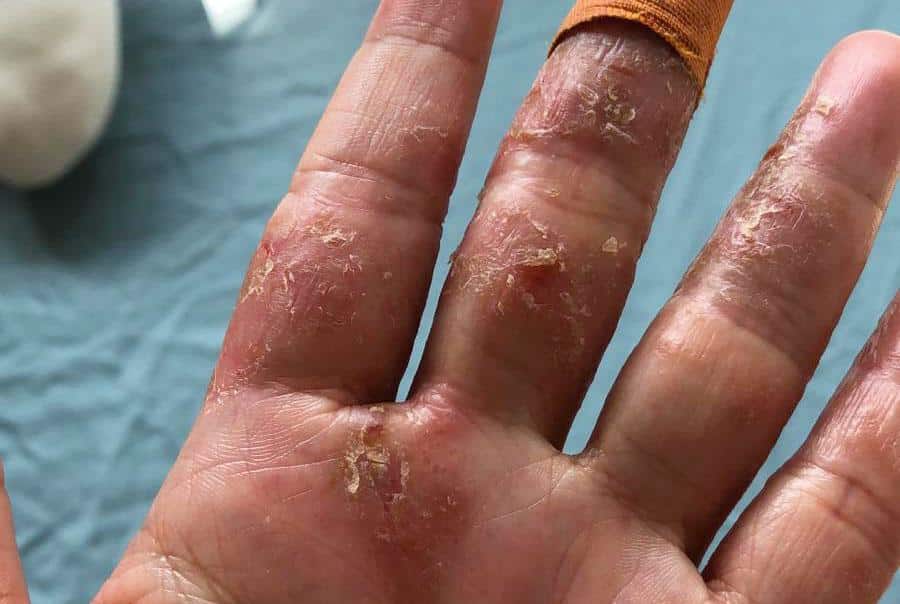 Desperate for a solution, she visited Skinshare.sg to search for a suitable product for hand eczema and dermatitis. That's when she got into a discussion with our therapist who helped her identify what was triggering her condition.
Main cause: Hotel soap
During the discussion, Kendra explained that, during her recent holiday, she was forced to use the hotel soap to bathe her kids. This was the most likely trigger for her recent eczema flare-up.
"I don't have any eczema reaction to our soap at home. But we were on a trip, so I had to use the outside soap," she explained.
Hotel soaps and regular supermarket soaps can contain very strong preservatives such as methylisothiazolinone and methylparaben. These preservatives are important to prevent mould from growing on the soap, but it has been reported to cause allergies.
Kendra also said that she occasionally uses wet wipes. Similar to soaps, wet wipes can contain the same preservatives that trigger dermatitis.
Recommended solution
Based on the discussion, we recommended Kendra to take the following steps:
Step 1: Heal open wounds and blisters
Apply an antibacterial gel such as Argasol Silver Gel on open wounds. Antibacterial gels should be applied after cleansing and before moisturising. This prevents any further infection from occurring, and allows the skin to heal on its own.
Step 2: Moisturise dry skin on hands
Apply a moisturiser that contains emu oil whenever her skin feels dry. Emu oil absorbs into the skin easily, and also helps reduce skin inflammation. In Kendra's case, her inflamed skin was peeling, therefore causing pain and irritation. Applying emu oil helps to reduce inflammation and redness.
The peeling skin also can no longer retain moisture, so she needed to apply external moisturiser to reduce dryness, and allow her to bend her fingers again.
Step 3: Protect hands with shielding lotion
The final step is to protect hands with a shielding lotion such as Gloves in a Bottle every 6 hours. Once applied, shielding lotion acts as an invisible barrier to protect the skin throughout the day. It also helps to lock in the moisturiser and prevents skin from getting exposed to new allergens and toxins.
If any cracks start to appear, she can also apply a moisturising ointment such as Kakadu Plum*. Ointments provide a similar protective barrier on the skin to protect against irritants.
Results
After following our recommended process, Kendra recently contacted us again with positive news. Her wounds have closed up, and her hands no longer feel tight and dry.
"I want to say thank you! The wounds have all closed up, and there is no more dryness or tightness"

Kendra
She pointed out that her skin went through a few more flare-ups before eventually getting better. The flare ups happened even without any apparent external triggers.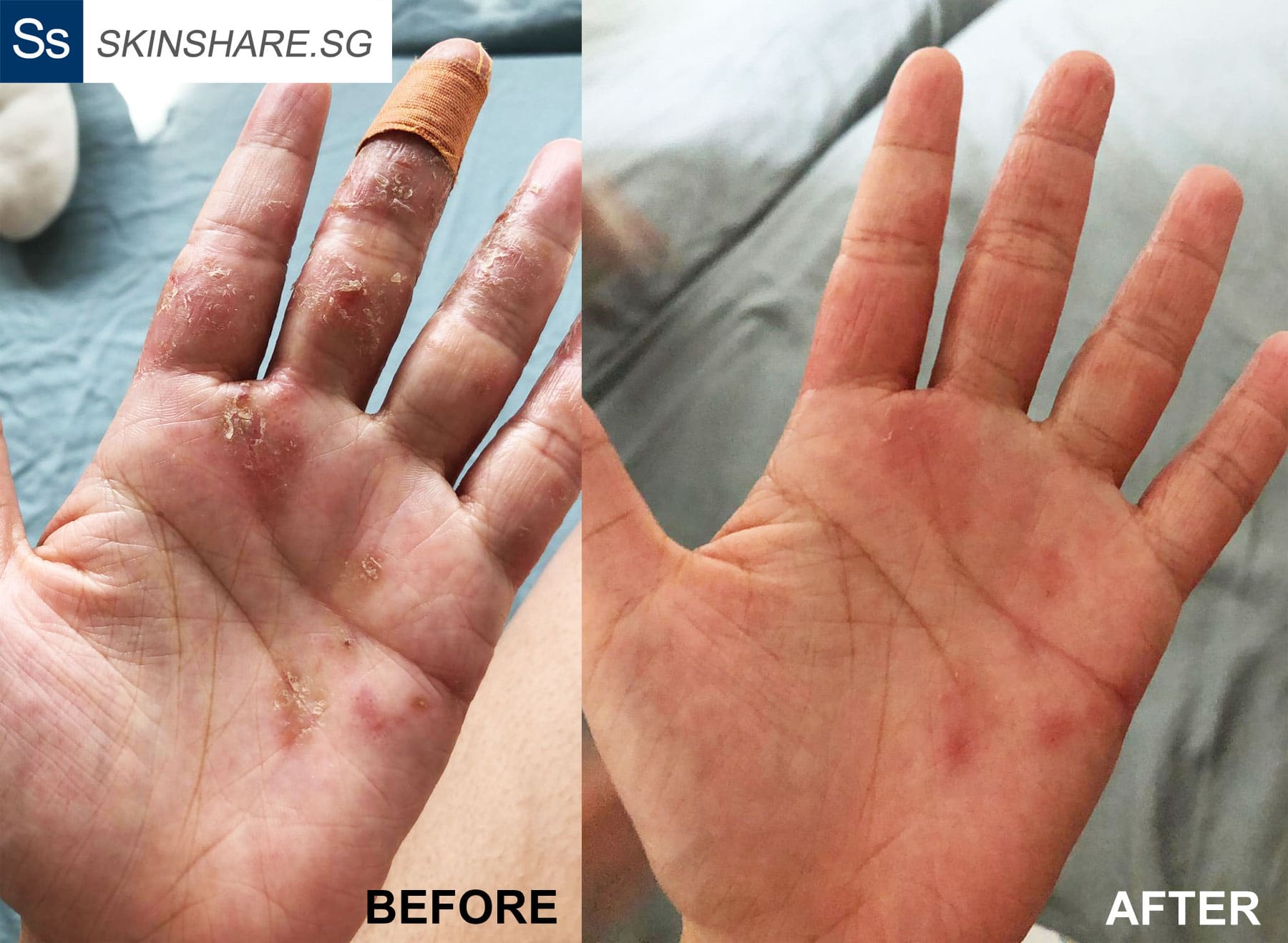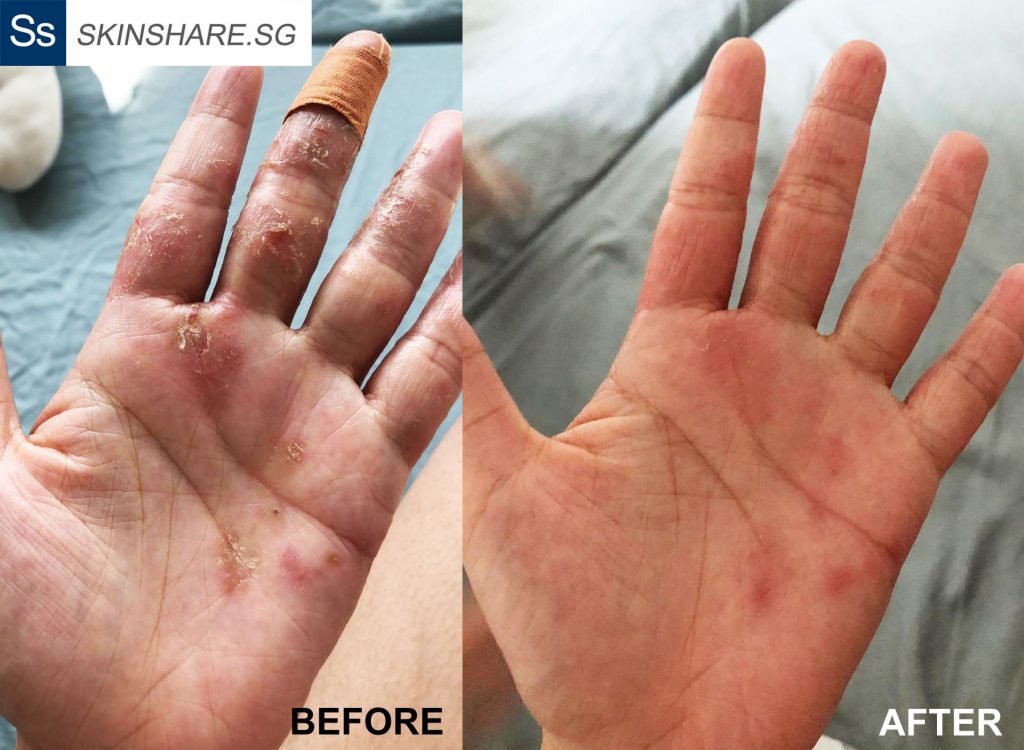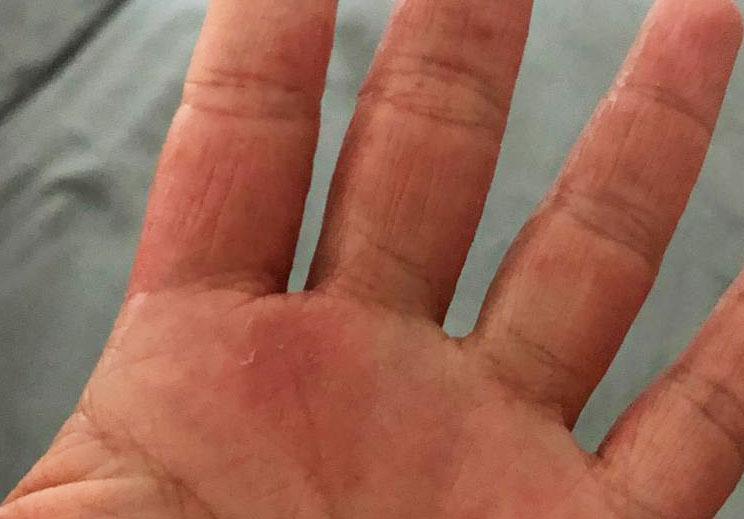 Today, Kendra continues to use our suggested moisturiser and shielding lotion. She no longer uses the antibacterial gel, since her cracked skin has closed up.
This recurrence of flare-ups could be attributed to steroid cream withdrawal, which can cause skin to peel and become even itchier. We suggested for her to continue the steps above, as it will also work to calm the skin during topical steroid withdrawal.
Recommended products for hand eczema
Skinshare.sg is a website dedicated to eczema relief and care. Our products have been hand-picked by the founder (herself an eczema sufferer) as they have been proven to work for her condition. Since 2013, Skinshare.sg has helped improve the quality of life for hundreds of eczema sufferers in Singapore and across the region.
Here are the products we recommended for Kendra:
Note: Unfortunately, the manufacturer of Kakadu Plum Ointment has discontinued this product. But we have found that ManukaRx Natural Skin Ointment works just as well.
About Skinshare Singapore
Skinshare Singapore is a skincare and nutrition platform for eczema. We source for the best skincare products from around the world to help the dermatitis/eczema community in Singapore and the region. Our goal is to help CALM, CARE and HEAL your skin for the long term, without resorting to harsh steroids or drugs.
[Welcome Offer] Enjoy 10% off your first order at skinshare.sg. Use promo code "FIRST" during checkout. While stocks last