If you have contact dermatitis, then it's important to keep your skin clear of everyday irritants.It's very easy to get exposed to dust and chemicals, especially if you do lots of housework. And some articles recommend simply wearing gloves when doing the dishes. But many people – myself included – find that even the latex from the gloves irritates my skin. So for the last few months, I've resorted to buying single-use plastic gloves from the pharmacy to protect my hands, and this has worked for me so far.
But what about protecting your hands all the time, even when you're not washing or tidying up?
That's when I discovered a product called Gloves In a Bottle.
I found out about this product from a recent book I read about managing eczema. I had never heard of shielding lotion before, but the testimonials from users and dermatologists from the website made me determined to give it a try. At this point, one of my fingertips had bubbles under then skin and was peeling and red and raw, making it really tough to perform daily tasks. My arms also had red itchy patches on it, so I was more than willing to test the product out.
Unfortunately, I couldn't find any place that carried this product in Singapore, so I got a bottle from overseas.
Testing the product
To see if it really worked, I applied it only on my left arm. After a day or two, I noticed that the rashes were healing much faster compared to anywhere else. And, it always felt like I had a thin silky layer over my skin, making it feel baby smooth – nice feeling!
It turns out the silky layer is really a shielding lotion that forms an invisible layer. Even though it feels like a moisturiser, it works more like a barrier so that the natural oils under the skin finally have a chance to hydrate the skin from the inside. It's like it's protecting the skin and giving it a chance to recover.
But the biggest realisation came one day at home. I was sitting on my fabric sofa and my son started jumping on it. For dust allergy sufferers, this is a big no-no, and I was sure I was going to have a flare-up right away.
Sure enough, my right arm started to feel itchy and a few rashes started developing. But, to my surprise, my left arm did not feel itchy!
Using it more and more
I was beginning to gain greater confidence in the product, so I started applying it on my left foot and left shin. And sure enough, my entire left side began to heal, after just five days of continuous application.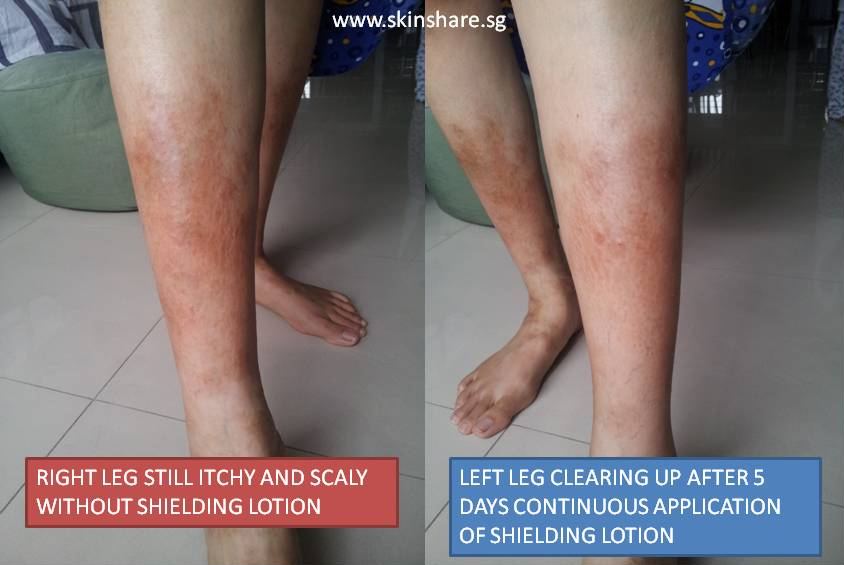 As for the eczema on one my fingertips, after just 3 days, the skin stopped peeling and no new bubbles were forming.
How to use it
I generally apply Gloves In A Bottle after a bath or quick shower. Unlike moisturisers which wash off easily, Gloves In A Bottle stays on for up to four hours.
THE RESULT: Fantastic improvements after two weeks
I am now applying Gloves In A Bottle to almost every part of my body that is potentially exposed to allergens and are very dry or cracked. Before this, I relied on gauze or plasters to wrap my raw and inflamed areas to protect them, making me look like an accident victim!
This product has greatly improved my quality of life and I hope this experience encourages you to try the product as well. In fact, it has been proven to help other skin condition like dry skin, cracked skin and psoriasis as well.
Review from some of the Singapore users who have ordered and tried it : 
"It absorbs fast and really moisturises. Love the creamy light scent. Thank you again for fast delivery of a great product" – CH
"This is a good lotion that protects my hands because I use chemical and shampoo a lot in my daily work as a hair dresser" – BW
Read more reviews here.
Protect your sensitive skin from dust, chemicals and irritants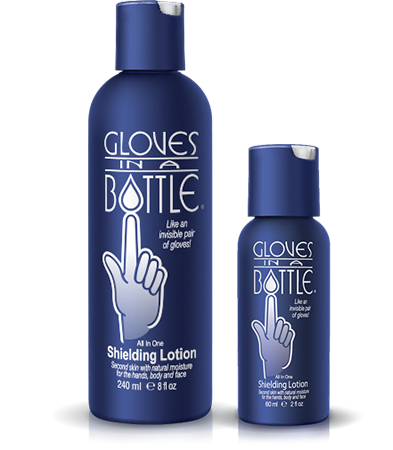 * Dermatologist recommended * Best seller in the USA and UK for Dry Skin/Eczema/Contact Allergy * Suitable for Children & Adults * Non-greasy * Hypoallergenic* Paraben free *