One month into my eczema diet, my rashes stopped spreading and I was feeling less itchy. However, my existing rashes were healing very slowly and would get aggravated when it's hot or dry or when my itchy fingers meddle with them. I decided to apply this natural fermented papaya ointment from Australia called Lucas Papaw ointment.
Papaw is a type of papaya. Papaya is high in essential nutrients, including vitamin A, vitamin C and potassium. A source from Livestrong.com : In addition, the sweet, fleshy fruit contains papain, an enzyme that may help treat and prevent certain health conditions. Fermented green papaya has been the focus of research on treating chronic disease, such as diabetes and cancer. Fermented papaya preparation (FPP) may increase the production of interleukin, a protein that plays an important role in healing wounds and minor infections. FPP also helps the macrophage, a type of white blood cell, work faster to destroy bacteria, viral infections and free radical fragments.
In order to evaluate if this ointment truly speeds up the healing, I decided to apply only one rash spot and take a photo before using this ointment.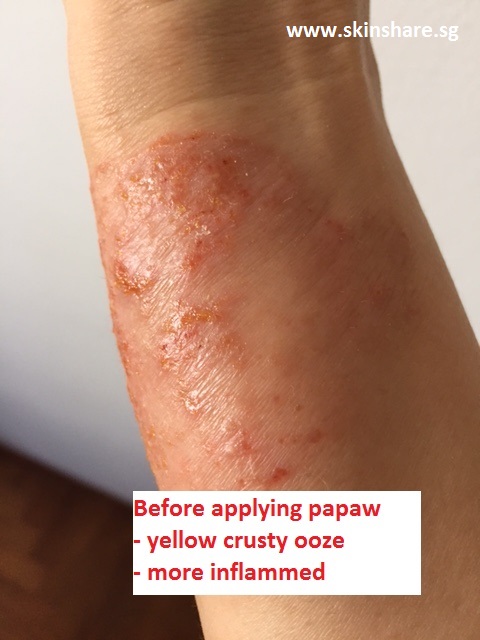 Before applying papaw ointment, my rash was drying up but still had slight yellow crusty ooze. It was also very much still mostly red and inflammed. It is generally less inflammed when I apply ice, aloe vera gel or wash with purple potassium permanganate solution but most of the other time, it would be red.
Day 1 of Papaw ointment
As with every ointment, papaw is slightly greasy upon application. However, after applying a small pea size amount, spreading it over the rash, it absorbs quickly and leaves a thin film of ointment over the area. It cleanses the wound as now, the ooze stops and the raw skin seems to dry up. After about 30 min, the greasiness feel will slowly go away. The good thing is I didn't need to put another layer of moisturizer. It adds a moisturizing layer to retain the moisture and prevent dry skin.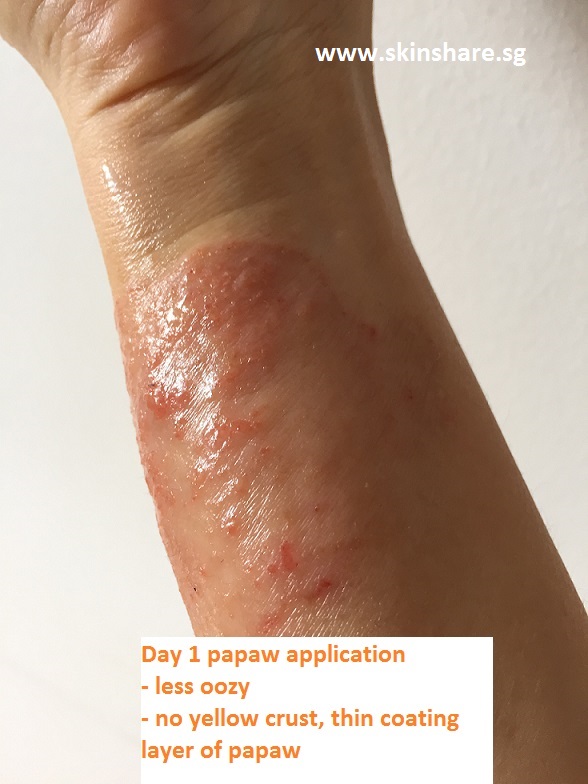 After several days…
Since my skin did not sting and accepted the ointment well in one area, I decided to apply over several areas as well. After a few days, I notice significant improvement in healing progress of the rash. Because it's less oozy(wet), the raw skin closed up faster and allowed new skin to grow below the wound. The area became less inflammed in general and healed faster to my normal skin colour, just slight pigmentation from the healing.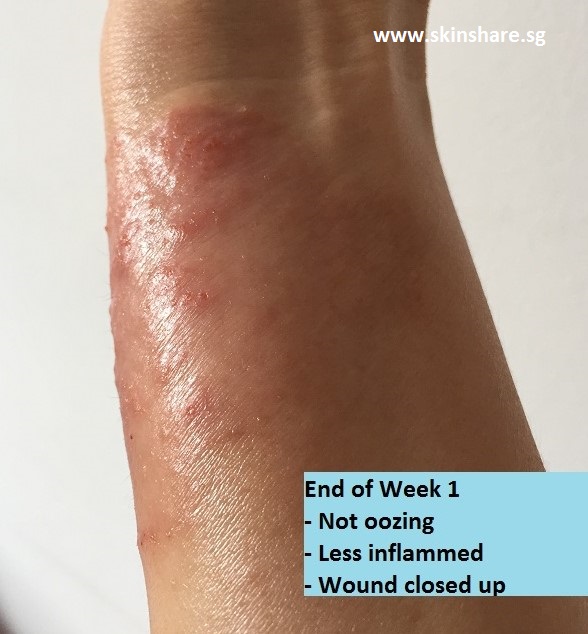 End of Week 2…
By the end of week 2, my rash spot was almost fully healed, only left with stubborn spots due to my night scratching (habitual).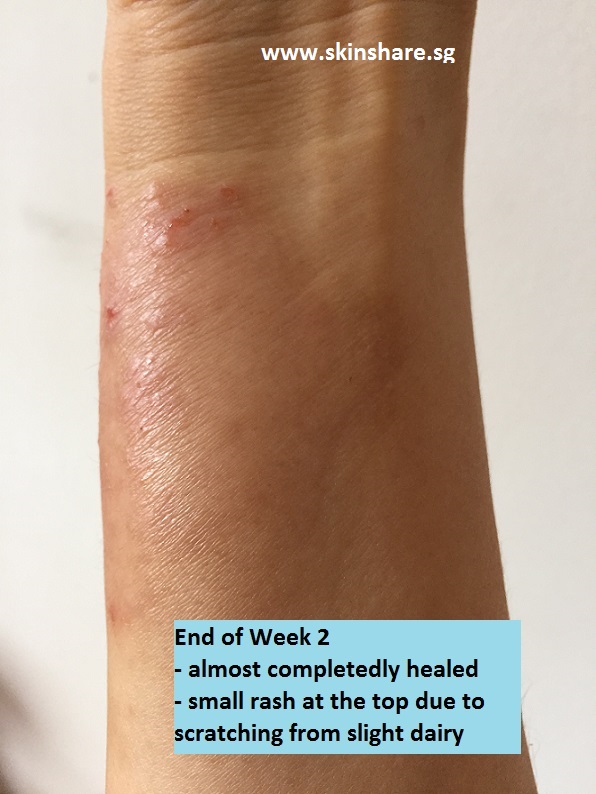 I am truly impressed by this ointment and decided to use regularly on my flared-up spots. This ointment can also be applied for nappy rash and wound for babies, I started applying in on our 11 month baby instead of his normal Sudocream.
Do note that there have been reported cheaper 'copycats' in the internet. If you want to try out this ointment for yourself and your family, you can order it now here at Skinshare Singapore. To ensure authenticity, the manufacturer's barcode is validated.
It comes in 2 sizes – travel, handy size 25g tube and economical, family pack size 75g tub :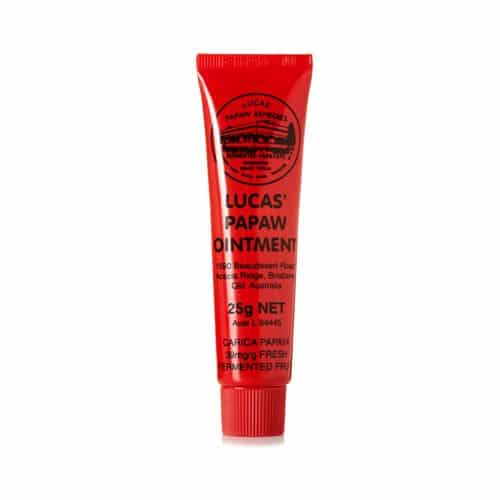 Order Lucas Papaw-25g
Order Lucas Papaw-75g
SUPERIOR NATURAL ALTERNATIVE TO PAPAW OINTMENT : Omega369 Eczema Cream with Emu Oil
Some customers who prefer an organic & petroleum-free based ointment now have an option to try our recommended Eczema Cream with emu oil which is  ointment-based. It has additional ingredients which are anti-bacterial such as zinc oxide and tea tree oil which helps to heal broken/scratched skin better. 
This 100% natural emu oil cream, which also contains natural antibacterial ingredients tea tree oil and zinc oxide, is specifically formulated to provide temporary relief from itchy, very dry skin. All of its individual ingredients have been scientifically researched to ensure that they are natural, safe and effective.
Leading Australian manufacturer of pure emu oil products.
Non steroidal, natural anti-inflammatory relief.
Natural anti-bacterial ingredients incl. tea tree oil, zinc oxide
Contains pure organic emu oil, which is rich in vitamins A, C, D & E, amino acids, and minerals
Unique blend of emu oil with grape seed oil, shea butter and other quality natural ingredients.
Place your order with urgent delivery options available here. 
Hypoallergenic & natural skincare, for eczema, sensitive and dry skin
View the selection of hypoallergenic, skincare products which can help to relief & manage your eczema/dermatitis at our online shop. You may filter products based on the condition/stage of your skin & symptoms.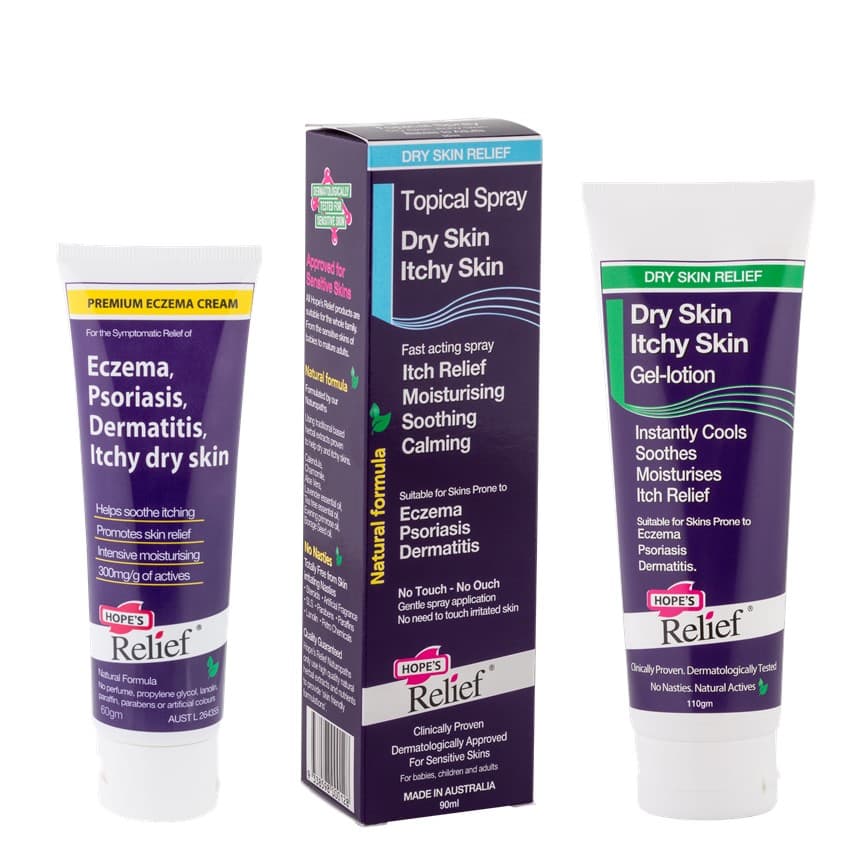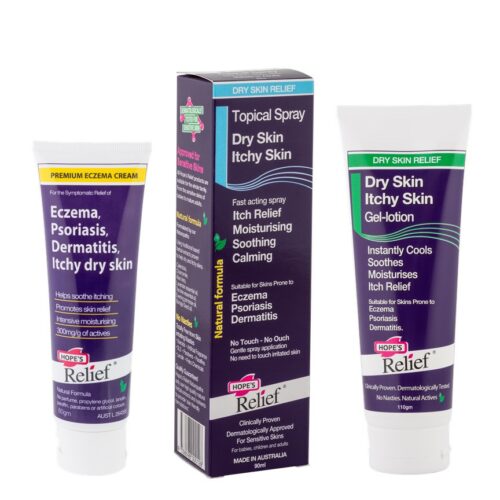 We also provide 1-2 working days "Courier" delivery options if you require the product urgently.