Thanks to a friend's recommendation to use Tubifast glove, now I can drive at ease and not worry about heat rash or drying fingers from the sun rays when I hold on to the steering wheel during mid day.
Last week my fingers flared up again after a long drive in the afternoon. So I was thinking of how to protect them from the UV rays. Wearing normal gardening gloves are too rough for my delicate skin, and suddenly I remembered a friend told me that she put on these gloves on her daughter's hand at night to prevent scratching.
After trying for 5 hours – driving to the mall, lunch and back, when I removed it, I realize my fingers were somehow still moist and not dry and cracking like always at the end of the day. I'm truly grateful, it's not even red and irritated and healing well since there's less irritant exposure and I don't peel the dead skin or dab it as often with tissue when it gets wet. However, the downside of this gloves is that is not as soft and comfortable as I expected. For some wound or sensitive skin areas, it's a bit scratchy. For now, it is better than no protection.
This made me research more about other possible material to protect hand eczema…. read the article below on bamboo hand gloves for eczema – which is by far the most comfortable and suitable gloves for eczema.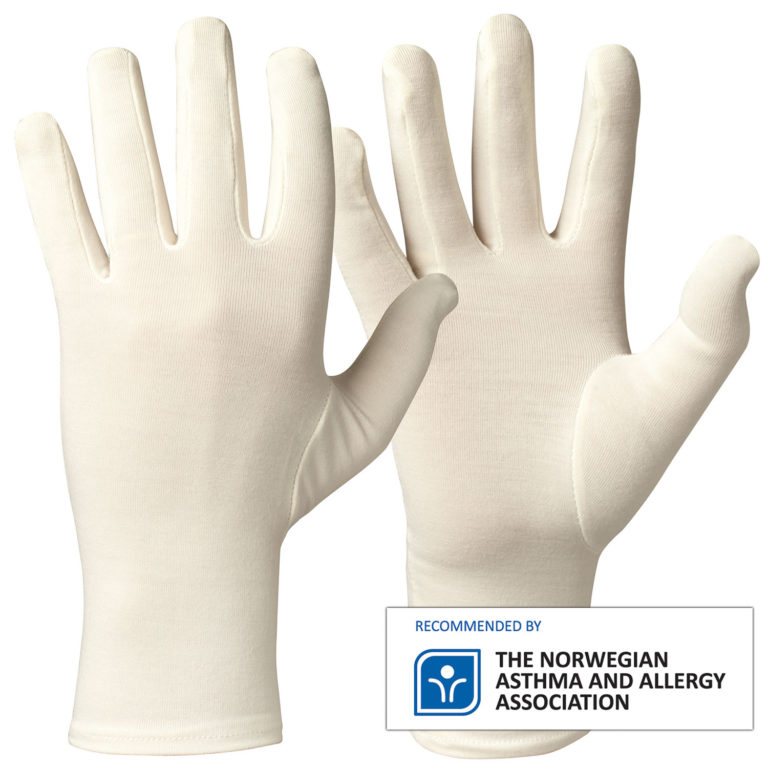 Comfortable Bamboo Eczema Gloves
Bamboo eczema gloves for adults are great for treating hand eczema, to prevent scratching, or as protection for contact dermatitis, psoriasis or other skin concerns.
While some cotton gloves may breathability, it may not continue to stay comfortable, especially after wash. Ultimate smooth and silky feeling is rarely found in 100% cotton clothing, but it can be achieved by using bamboo.
After sourcing and getting good feedback from our customers during our trial launch, we have chosen the brand of bamboo gloves from a reputable Norway brand – recommended by the Norwegian Asthma & Allergy Association. These are super soft gloves, which are made from health-friendly and biodegradable bamboo and will prevent the user from scratching directly on eczema / wounds. It can also be used as a very comfortable gloves to protect hands from drying or external irritants while performing daily activities.
It is stretchable and they are very comfortable to wear. They are economical too, because they are reusable, can be washed with room temperature or up to 60 °C and will keep their good qualities wash after wash.
Thus, it is useful to prevent scratching, or as protection for contact dermatitis, psoriasis or other skin concerns.