Eczema-diet is fundamentally alkaline-based, food choices that are non itch causing. This is a personal diary of an eczema-sufferer under-going the eczema diet :
The start…..
I have been on my eczema diet for 10 days now and so far I notice that my skin has calmed down somewhat. Of course the other change in my body is that I've stopped breastfeeding and with my menstruation now starting again, my hormonal change may have some effect on my skin too. But with my dairy elimination and some food avoidance (I will elaborate more in subsequent postings on how I came up with this list), I feel more energized and maybe the body feel less taxed too. I wrote down the list and posted in my dining area to remind me on what to avoid.
After 3 weeks….
It has been 3 weeks since I started with my eczema diet and diligently consuming supplements recommended by an Australian nutrition clinic, curated by a nutritionist. The supplements come in powder form and one is to be taken in the day and the other in the evening. I have also been getting better longer sleep, with the intensity of itchiness reducing, thus I can feel my skin healing better.
Before the start of eczema diet                               3 weeks after eczema diet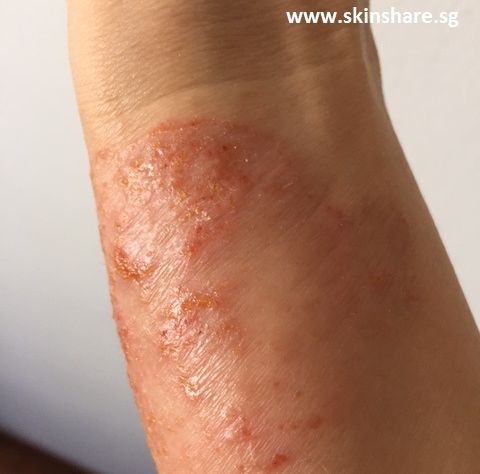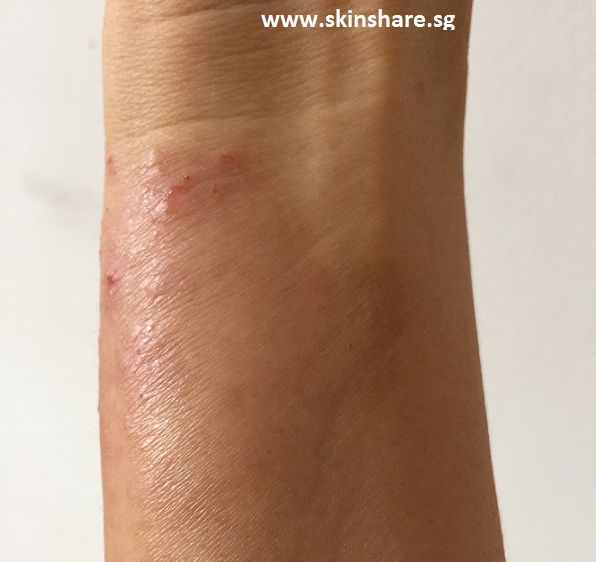 Another significant improvement I notice is that the rashes are not so weepy, in fact, today all of them are pretty much dry. I also don't feel intense itchiness in the day time even though I am not on any antihistamine. I am very motivated by these improvements, and would want to continue being stricter on my diet elimination as I have been 'cheating' and consuming a little bit occassionally of the itchy causing food. Of course it's not sustainable to totally change our diet overnight so I have decided to adapt gradually.
Food to Avoid : 
Here is a list of food that we should avoid if we have rashes or eczema as it can intensify the itchiness which aggravates the rash and causes us so much discomfort :
Type of Food
Why should we avoid?
Dairy products
Generally dairy product are not good for the gastrointestinal tract as it can cause leaky gut syndrome. Base on several medical advice, if you have any infection, it is a food for bacteria to feed on and it will aggravate the rashes symptoms. This also includes any by-products made from cow's milk eg. cheese cake, yogurt, cheese
Certain fruits example : Kiwi
Some of these fruits are strongly acidic. Since they are very high in Vitamin C, you can substitute for safer fruit eg. guava, papaya which are also high in Vit. C content.
On the contrary, lemon/lime is good for you - even though highly acidic, once consumed with a pinch of salt, it is a very good alkalizing drink which is good for the body's acid-alkaline balance.
Certain vegetables example : tomato
Tomato contains the 3 natural sources of chemical which triggers itchiness. Do be mindful to also avoid by product eg. tomato sauce, bolognese sauce
Dried fruits (which contains sulfite as preservative)
The preservatives used in dried fruits are itch causing. You can opt for freeze dried/baked or organic version.
CRAP (Carbonated Drinks, Refined Food, Artificial Flavoring/Colouring, Processed Food)
Carbonated drinks, artificial flavouring and colouring are processed food, some chemically derived and has no nutrient. Refined food like sugar and white flour has been heavily processed and the nutrients of the natural food source remains very little.
Any food that you are allergic to
If you notice that you get an allergy reaction if you eat a specific food, then you have to totally avoid them.
When I compiled the list above, I thought it was close to impossible to be 100% strict with the diet elimination right away. So I decided to carry them out as best possible in stages and to find replacements so that I'm not missing out on the main dietary nutrients and of course not go hungry all the time!
My eczema diet adjustment in the past 3 weeks : 
– Our daily breakfast menu at home consists of a lot of wheat and dairy products. While I continue to prepare for my son & hubby the similar menu, I ensured I have a good alternative when they have ham or yogurt or cakes. I ensure that I always have sweet potato in my fridge so that I can have steam sweet potato instead. Occassionally, I will have kuih from bengawan solo as they are primary made of coconut milk and rice. The other alternative is oat granolas or oat muesli with oat milk. I bake my own bread using breadmaker so I cut down on the milk in the recipe and add in more whole grain flour/buckwheat flour with some walnut/sunflower seed/sesame.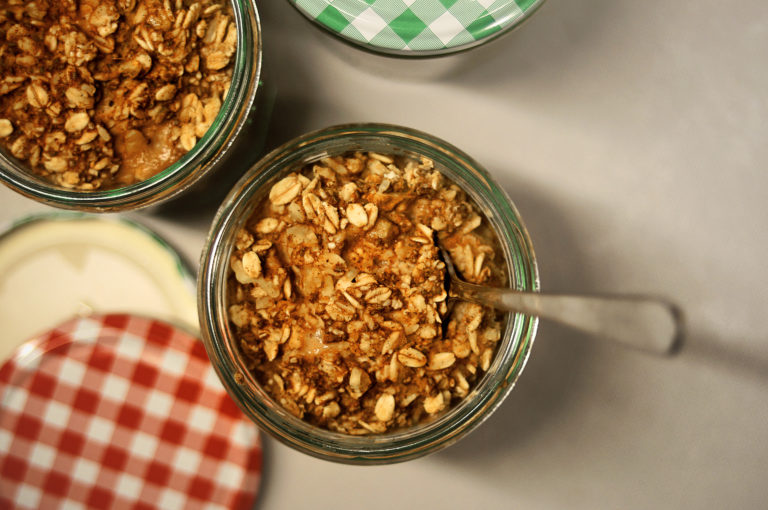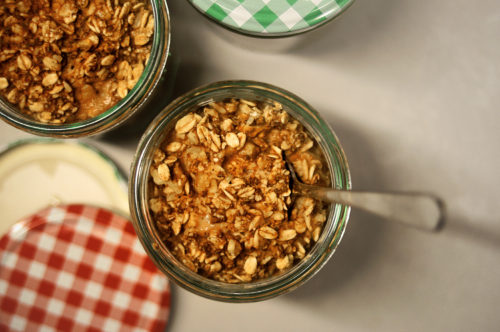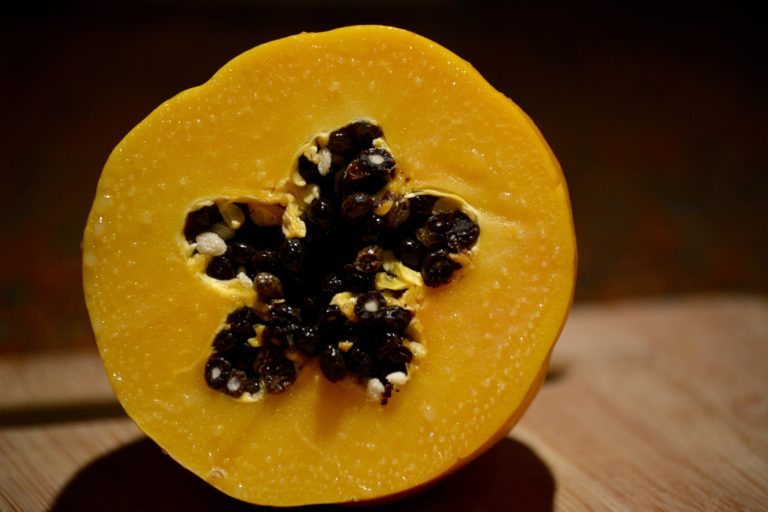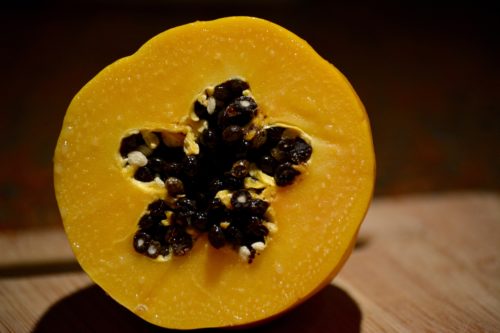 – I use to enjoy 2 cups of of 'teh-si siu dai' everyday but now I cut to once a day and it became 'teh-o kosong'
– I prepare lunch at home and only go out after/before lunch. I bought a pack of organic  quinoa from Superlife, millet & brown rice noodle from IHERB .
– I cook extra stew/broth/soup so that I can have them for lunch next day.
– Most Cedele cafe have a very good salad section where you can choose 6-8  main ingredients from the 20 options that they have. They have an excellent variety and taste as well. I love the promogenate dressing.
– If I eat out, I generally choose rice and a plain meat (like steam or fried fish) and a plain vege.
– I love my tea breaks and snacks, substituted them with healthy nuts and seeds like roasted chickpea and green soya and fruits.
– No longer dip any of my food in chili/ketchup/soya sauce. Instead I add sea salt and pepper, apple cider vinegar or mixed herb for flavour.
– I'm now a fan of Mr. Bean soya milk & bean curd (25% sugar).
Not bad right for a start? After I've finished the book Eczema Diet, I will tweak more of the above. In addition, I'm waiting for some PH strips so that I can test my acid/alkaline level to adjust my diet further if needed.
[Update] : After 6 weeks being on the eczema diet, I have slowly started to re-introduce some of the food that I have been eliminating and avoid only specific food that causes flare up or intense itching. Now at 3 months mark, I am still primarily on 70% of the time on eczema diet, giving myself some break in between during parties, gathering or when I'm out and I can't find eczema-friendly food.
After 3 months on eczema diet :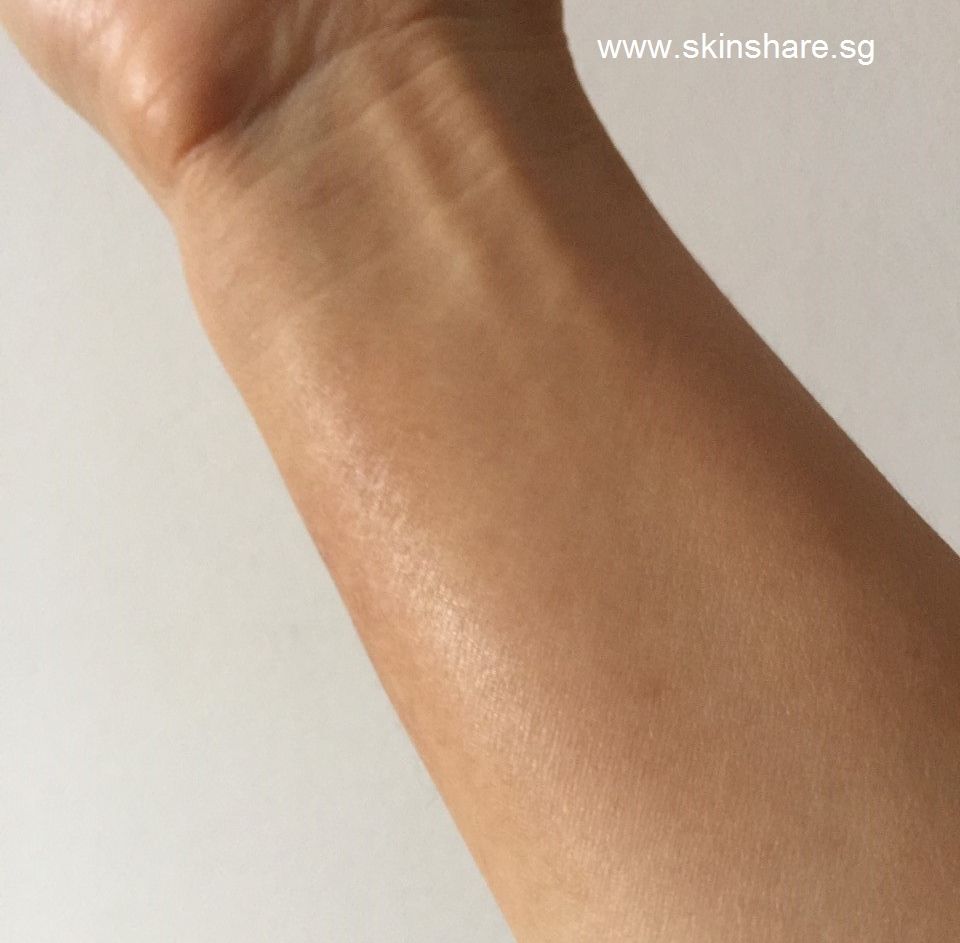 https://skinshare.sg/blog/2017/01/01/what-is-eczema-diet/