Derma e is one of the largest natural facial care brands in the US. Its products are 100% vegan, GMO-free, cruelty-free, free of parabens, phthalates and petrolatum, free of propyl ingredients and sodium lauryl sulfates, and uses no mineral oil, lanolin, or artificial colors.
Dr. Linda Miles, derma e's VP and formulator, uses the philosophy that "nature knows best," and that "natural can be even more effective than man-made".
Psorzema® product line range by Derma E has been established for many years and clinically proven to be effective in soothing the skin, reducing scaling and flaking skin. This range aims to relief scaly, flaky and itchy dry skin associated with Psoriasis and Eczema. Their Psorzema® cream has been one of their top-10 best-seller and very well-received globally.
About Psorzema Cream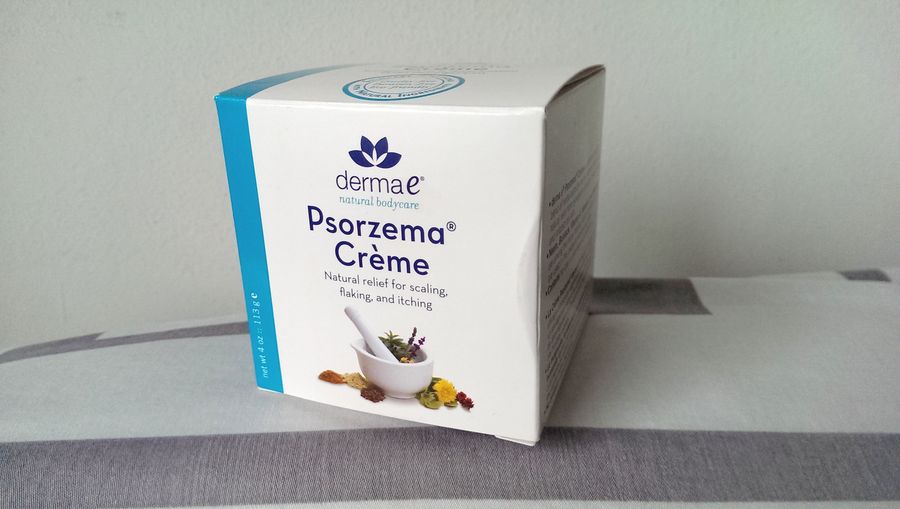 Derma-E Psorzema Crème is a safe and effective blend of herbal extracts and skin vitamins that provides natural relief from symptoms of scaling, flaking, itching, and irritated dry skin.
Neem, burdock, Vitamin A, Vitamin E, and Bearberry are among the many healing natural ingredients that are used in this pleasant moisturising crème.
Neem – The traditional Indian tradition has been using this leaf for many medicinal benefits, including skin health. Studies have shown antimicrobial and anti-bacterial properties of this leaf. According to DrAxe, neem oil may prove to be a natural remedy for eczema symptoms, soothing dry, red, itchy skin.
Burdock – Burdock root has been used in Chinese and Japanese ancient time in view of it's high antioxidant properties. It's anti-bacterial, antiseptic, and anti-inflammatory properties natural remedy is also used for many skin conditions, including eczema(dermatitis) and psoriasis.
Bearberry – Clinical studies has proven that bearberry leaf extract is a very good source of anti-oxidant due to presence of high antioxidant activity. It has been used by ancient European as a natural remedy for anti-inflammatory and anti-aging for skin.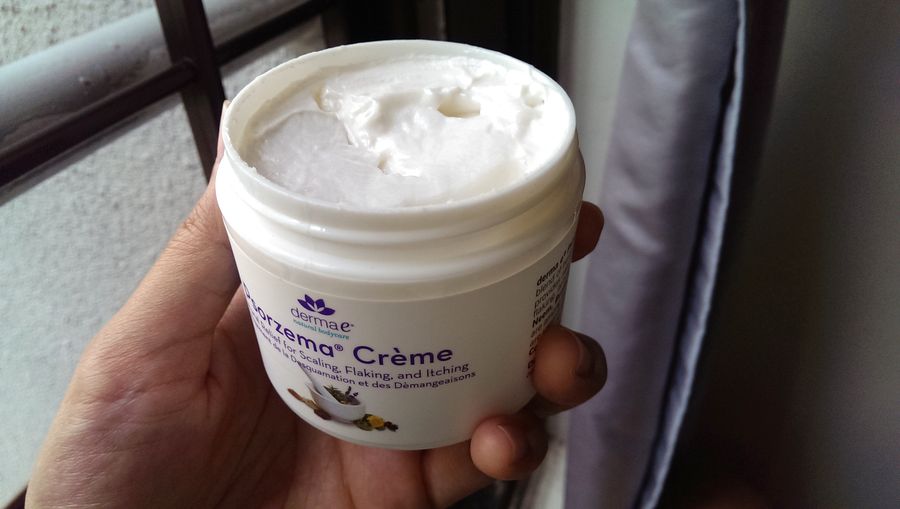 The creme itself is smooth white and feels nice to apply with a soothing after effect. It absorbs quite well and doesn't leave a very sticky feeling even though it is a creme.
This box also comes with a little note that highlights that Derma-E's commitment to using natural ingredients, and why that may result in slight differences in each batch they manufacture.
Ingredients:
Let's take a look at the ingredients and their primary function. Some of the main function of each ingredient are highlighted, referencing from resources such as www.wikipedia.com, truthinaging.com, paulaschoice.com, thenakedchemist.com. 
| Ingredient | Mainly used for |
| --- | --- |
| Water (Aqua) | |
| Neem (Melia Azadirachta) Leaf Extract | Pain reliever and anti-inflammatory |
| Burdock (Arctium Lappa) Root Extract | Its primary active component, inulin, appears to be able to correct defects in the inflammatory mechanisms and immune system |
| Organic Chamomilla Recutita (Marticaria) Flower Extract | Chamomile flower extract to soothe, calm, and heal irritated skin |
| Zanthoxylum Zanthoxyloides (Fagara) Bark Extract | A widely-known medicinal plant in Uganda and other African countries. Appears to be used for its antibacterial properties |
| Arctostaphylos Uva Ursi (Bearberry) Leaf Extract | Believed to help even out skin tone and coloration |
| Coptis Chinensis (Chinese Golden Threat) Root Extract | Used for its antifungal and antibacterial properties |
| Berberis Aquifolium (Barberry) Extract | Shown to inhibit the growth of bacteria, and may help the immune system function better |
| Glycerin | Used as a humectant (i.e. to keeps the skin surface moist), and to counter the possible drying effects of other ingredients such as alcohols |
| Stearic Acid | Used as a thickener |
| Glyceryl Stearate and Peg-100 Stearate | Used as a waxy lubricant |
| Tocopheryl Acetate (Vitamin E) | Vitamin E is used as an antioxidant to protect and repairs skin from damage |
| Retinyl Palmitate (Vitamin A) | Vitamin A is applied to the skin to improve wound healing, reduce wrinkles, and to protect the skin against UV radiation |
| Allantoin | A natural soothing, anti-irritant, and skin protectant that increases the smoothness of the skin; promotes cell replication; and promotes the healing of wounds, burns, and scars |
| Organic Simmondsia Chinensis (Jojoba) Seed Oil | Theorised to be able to balance oil production in the skin |
| Caprylic/Capric Triglyceride | Also known as fractionated coconut oil; used as a thickener |
| Polysorbate | Used as a surfactant and emusifier to allow the oil and water-based ingredients in the creme to mix together |
| Cetyl Alcohol | Also used as emusifier |
| Dimethicone | Used to provide a protective cover on skin |
| Phenoxyethanol | Used as preservative |
| Ethylhexylglycerin | Used as preservative and as a replacement for parabens (which is believed to be harmful) |
| Potassium Sorbate | Same as above |
User Review:
Psorzema Creme by derma e has been one of the main products to relieve itching for several years. I have not had any adverse reaction to it, and find it useful as a quick remedy for any trouble spots. I also used it on any parts of my legs and arms that start itching in the middle of the night. – BL
Psorzema cream by Derma-E-Now available at Skinshare SG shop
Clinically tested

Safe & effective blend of herbal extracts and skin vitamins

Relieves from symptoms of scaling, flaking, itching and irritated dry skin.

Does not contain steriods or coal or pine tars.

Made in USA
Hypoallergenic & Paraben-free