Regina* has always had eczema on her fingers and legs, where her skin was constantly red, itchy and cracking. It got to a point where her skin had become thick and leathery due to constant scratching. Her skin also felt tight and it was hard to bend her fingers.
"I have been using steroid creams to manage this condition for years, but finally decided to stop. After stopping, I relied on many different types of creams, and also tried traditional Chinese medicine (TCM) but it didn't seem to work" she added.
To make things worse, Regina's wedding was going to take place in just 3 months time.
"I really wanted to find a solution to my angry and red skin, but nothing seemed to work"

Regina*, Singaporean bride-to-be
A decade of living with eczema
Regina has had eczema for over 10 years, and it developed during her teen years.
"It happened when I was trying on a friend's make-up on my face. Soon I developed very dry and flaky skin on my upper eyelids, and that spread to my nose bridge. Later, I developed eczema on my elbow, my fingers and on the side of my leg."
Although the initial trigger for her eczema was make-up, she wondered why her condition remained for years, and looked to her diet and other external allergens for answers.
"I grew up drinking milk, eating cheese, nuts, soy and so on, so doctors always insisted it had nothing to do with diet. But I tried changing my diet anyway; stopping dairy, nuts, and many other common allergens."
"I also tried different types of bedsheets, towels, body soaps, shampoos but to no avail. The itch just keeps coming back. When the skin starts to heal, it itches, and I end up scratching it again, day and night."
"My doctors said the skin had 'lichinified' due to excessive rubbing of the skin. I could not go about my day without the skin on my fingers cracking and becoming intensely itchy" she said.
"Only recently have I begun to suspect that I may be intolerant to eggs. Eating raw eggs during a steam boat one time cause my finger eczema to become very very bad. I also realised that ice cream and mayonnaise could trigger a flare-up, too, and they both contain eggs."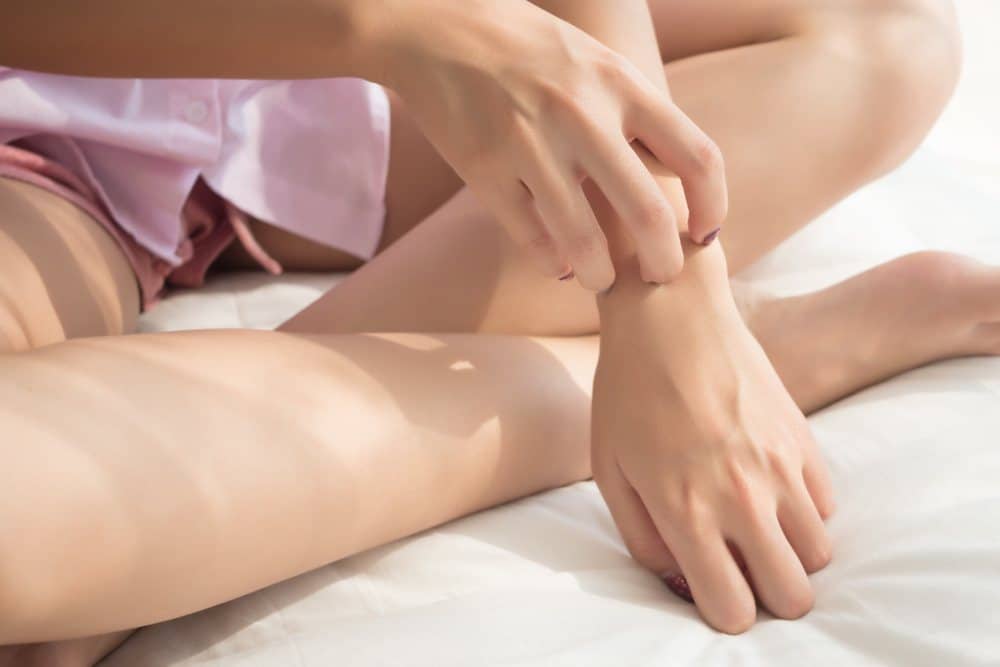 Caught in a cycle of steroid use
Having spent thousands visiting both Western and TCM doctors, as well as reputable dermatologists, nothing seemed to work.
"They only offered steroids, steroids and even stronger steroids. But, just before I reached my 20s, I became aware about the side effects of steroids such as thinning of the skin, so I tried to stop using it, but started experiencing steroid withdrawal"
"The skin on my eyelids became super thin and even the slightest crease would cause it to split and bleed. Many times, I thought about just going back to steroids as it was 'easier', but I knew I was only treating the surface instead of the root cause."
Missing out on opportunities
Eczema can be extremely debilitating for a young adult, affecting relationships, mental and physical health, and employment. Even doing small tasks can be difficult. Regina's case was no different.
"Because of my eczema, I could not go swimming in the sea anymore, as it would always cause me sharp pain."
"Even simple things like hanging laundry, washing dishes and even cutting fruit would cause pain and dry out my skin. I was once also fired from my part-time job in a bar, as I was unable to wash beer glasses and serve food with my 'ugly' skin."
"My boyfriend (now fiancé) has to help me a lot, as my fingers were always covered in plasters. It feels terrible having to inconvenience others"
In her search for a solution, she visited Skinshare.sg to search for a suitable product for her eczema.
Through a live chat session, our therapist suggested the best steps to take to heal her skin.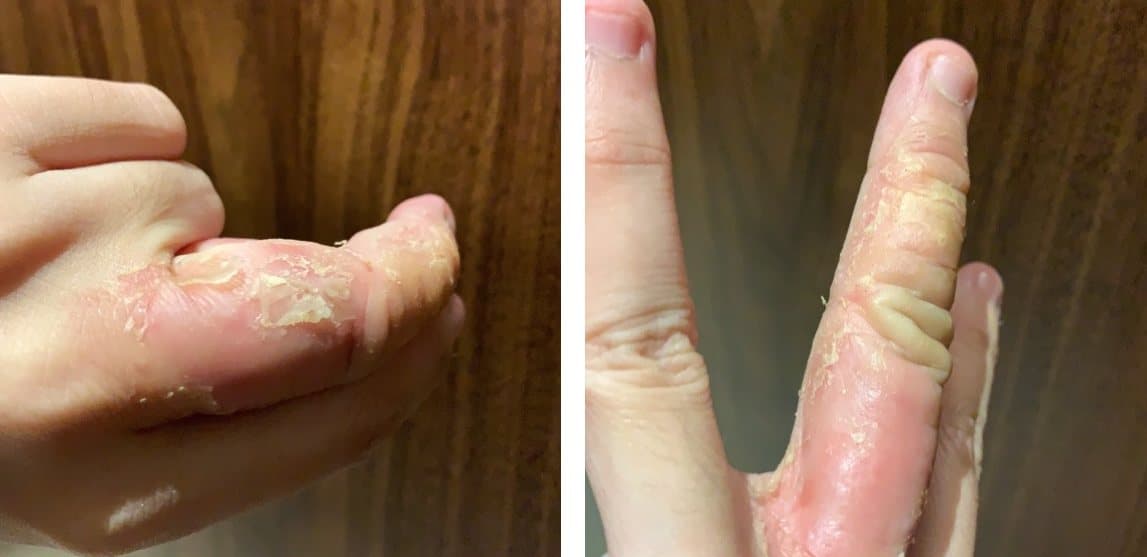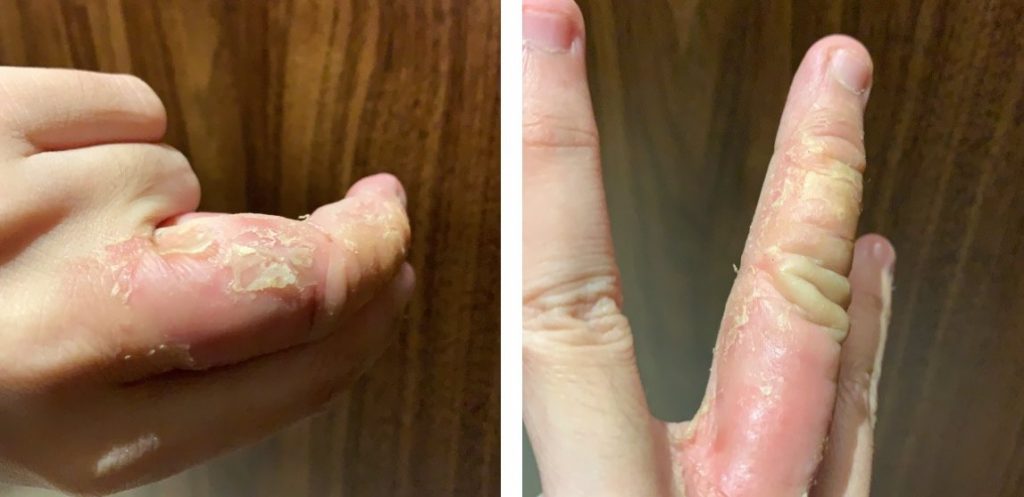 Recommended solution
Based on our discussion with Regina, we recommended her to take the following steps:
Step 1: Clean and protect open wounds and cracked skin
We suggested her to apply an antibacterial gel such as Argasol Silver Gel on open wounds. Antibacterial gels should be applied after cleansing and before moisturising. This prevents any further infection from occurring, and allows the skin to heal on its own.
Step 2: Moisturise dry skin on hands and fingers
Inflamed and peeling skin reduces its ability to retain moisture, so she needed to apply external moisturiser to reduce dryness.
The creams that she had been using from retail stores were not enough to moisturise her skin, so we suggested that she apply a moisturiser that contains emu oil whenever her skin feels dry.
Emu oil absorbs into the skin easily, and also helps reduce skin inflammation. In her case, her inflamed skin was peeling, therefore causing pain and irritation. Applying emu oil helps to reduce inflammation and redness.
To prevent cracks from appearing, we recommended her to follow up the emu oil with a moisturising ointment such as Kakadu Plum Ointment*. Ointments provide a similar protective barrier on the skin to protect against irritants.
Unlike moisturing creams that are water-based, oils and ointments are much thicker and are oil-based, so they stay on the skin for longer.
Results after 2 weeks
After just two weeks of following our recommended process, Regina happily contacted us again with positive news. Her skin was feeling much better, and she can finally try on wedding rings!
"For the first time in years, my skin is super smooth. I can bend my fingers again and it has stopped itching. Now I can go and try on wedding rings, finally!"
To combat the dryness, she applied emu oil to get immediate moisturising relief, and followed up with a layer of Kakadu Ointment to protect it. After a few days, the skin on her fingers became less itchy, did not feel dry, and the redness went down.
"The emu oil is super good. When my skin feels itchy or looks red, after applying it – it totally doesn't turn red anymore!"
Eventually, her old skin began to peel away, revealing smoother, healthier skin underneath. This was a good sign, as it showed that her skin was beginning to heal.
Over the past 2 weeks, my skin has been very very good. My skin is more manageable, all thanks to Bee's recommendations. I can finally understand what my skin needs and don't feel so lost anymore.
We are so glad to have helped Regina in Singapore to heal her eczema. Now she can look forward to her wedding without worrying about her skin!

Recommended products
Skinshare.sg is a website dedicated to eczema relief and care. Our products have been hand-picked by the founder (herself an eczema sufferer) as they have been proven to work for her condition. Since 2013, Skinshare.sg has helped improve the quality of life for hundreds of eczema sufferers in Singapore and across the region.
Here are the products we recommended for Regina:
Note: Unfortunately, the manufacturer of Kakadu Plum Ointment has discontinued this product. But we have found that ManukaRx Natural Skin Ointment works just as well.
About Skinshare Singapore
Skinshare Singapore is a skincare and nutrition platform for eczema. We source for the best skincare products from around the world to help the dermatitis/eczema community in Singapore and the region. Our goal is to help CALM, CARE and HEAL your skin for the long term, without resorting to harsh steroids or drugs.
[Welcome Offer] Enjoy 10% off your first order at skinshare.sg. Use promo code "FIRST" during checkout. While stocks last
* Names changed for privacy. Featured image shown for illustration only